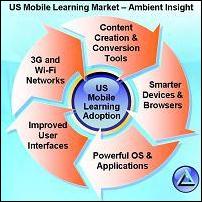 My report identifies the real customers for suppliers
Seattle, WA (PRWEB) November 28, 2006
Ambient Insight today announced two reports on the 2006-2011 US Mobile Learning market. Executive overviews of the reports are available for free at http://www.ambientinsight.com/Reports/MobileLearning.aspx
The market for Mobile Learning products and services across all the buyer segments is growing by 27.2% and will exceed $1.5 billion by 2011. There are now waves of new products hitting the market including language learning, test prep, training podcasts, personal learning tools, location-based services, device-embedded reference, wireless decision support, and handheld continuing education content.
"Unlike elearning which is dominated by corporate buyers, Mobile Learning is being driven by consumer, government, and healthcare buyers," said Sam Adkins, chief research officer. Packaged content will account for the largest revenues for suppliers throughout the forecast period. Adkins breaks out revenues for seven distinct types of packaged content in his report.
"But the fastest growing opportunity over the next five years is the demand for custom content development and technology services. The largest buyers for these m-learning services in terms of revenues are corporations and government agencies," added Adkins.
In a second report, Jill Burger, principal research analyst, provides an in-depth forecast of the demand for mlearning in the healthcare sector. "My report identifies the real customers for suppliers," comments Burger. "More often than not, the buyers are not the healthcare professionals that use the products."
Healthcare buyers are already spending over $96 million on a range of innovative products including clinical applications, medcasts, CME exams, licensing exam preparation, and medical reference. They will spend $276 million by 2011. "This is a profitable business for firms that can identify the true buyers," reports Burger.
About Ambient Insight LLC
We identify revenue opportunities for suppliers. Ambient Insight is the only research firm that has developed a learning product taxonomy based on pedagogy and information architecture principles. We cover all the buying segments, not just corporate. Suppliers need precise product definitions and forecasts across all buyer segments to compete in today's training and education industry. Visit us at: http://www.ambientinsight.com
For more information on this research, please contact:
Sam S. Adkins, Chief Research Officer
Ambient Insight LLC
360-805-4298
info @ ambientinsight.com
# # #