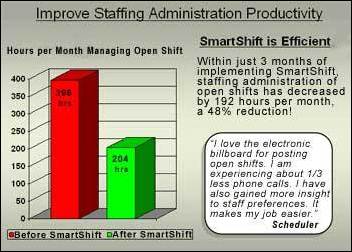 the most powerful staffing tool in the healthcare industry.
Boca Raton, FL (PRWEB) November 28, 2006
Hospitals utilizing Stay Staffed SmartShift technology have reported saving up to $1.6 million a year. The Stay Staffed three-pronged approach to Web-based staffing products and services has revolutionized the way hospital administrators forecast budgets and slash payroll.
"One of the greatest benefits of the Stay Staffed program is that it allows the health system to utilize our own staff instead of agency staff," said Amy Farmer, RN, MBA, and staffing manager for Maryland-based Washington County Hospital. "We were at the point where we wanted to find a way to maximize internal resources."
The SmartShift Internal Staffing Management (ISM) bidding feature improves employee retention through buy-in and minimizes the actual expense of per diem and traveler staffing. At the same time, the administrative Time Control Management program significantly reduces overtime payroll costs while enhancing budget performance. SmartShift tracks documentation to assist with JCAHO compliance and delivers unit reporting and analysis spreadsheets in real time format.
"It's very convenient. The program allows me to effectively forecast for staff instead of putting out fires last minute," Farmer said.
The Stay Staffed three-pronged approach encompasses Internal Staffing Management (ISM), Vendor Staffing Management (VSM), and the new Candidate Direct product. Candidate Direct is a custom technology platform which eliminates the agency model and results in substantial savings. This single online source permits direct relationships with an unlimited base of qualified candidates and includes value added services such as candidate credentialing; document expiration date notification; payroll, insurance, billing, recruitment, and benefits processing.
Stay Staffed offers Web based staffing and vendor management solutions to top hospitals and healthcare institutions across the U.S. All staffing programs are customized to meet organizational goals and objectives and do not require the purchase of software or hardware. Stay Staffed Web-based solutions dramatically decrease expenses and relieve administrative burdens.
For more information regarding Stay Staffed Internal Staffing Management (ISM), Vendor Staffing Management (VSM), or Candidate Direct products and services call 800-585-1710 or go online to http://www.staystaffed.com.
About Stay Staffed Products and Services
With over 20 years of hospital staffing experience, the executive management team of Stay Staffed has conducted business with over 75 percent of the top rated hospitals in the United States. The Stay Staffed SmartShift technology is proven to reduce agency dependence and boost worker productivity. The company's Internal Staffing Management, Vendor Staffing Management, and Candidate Direct Web based solutions conserve precious capital, optimize internal resources, and ease the burden of maintaining adequate staffing levels. With just an Internet connection, hospitals and healthcare facilities can reduce up to 94 percent of their supplemental staffing expenses by using what experts are calling "the most powerful staffing tool in the healthcare industry." Stay Staffed clients are assured of working with an organization that operates at the highest level of professionalism, integrity, and sound management principals.
###