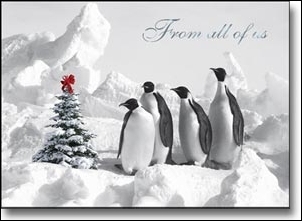 Plano, TX (PRWEB) November 28, 2006
CardsDirect, a company specializing in business holiday cards and business Christmas cards, is pleased to report record sales over the past year.
"Sales have increased more than 25 percent over the prior year as more and more companies are choosing to send traditional Christmas cards and Holiday Cards to their clients, business partners, and employees," says Michael Swart, Vice President of Marketing for CardsDirect.
According to CardsDirect, Penguin themed cards are apparently very popular this year, most likely driven by Warner Bros.' newly released family movie, "Happy Feet." In addition, there has also been a surge in popularity for religious themed cards and using the "Merry Christmas" greeting this year as many companies are swaying back to more traditional themed messages.
Other Business Christmas card options include Christmas tree designs, humorous Christmas cards, golf themes, patriotic themes, polar bears, snowflakes, Santa designs, Snowman designs and much more. CardsDirect even offers photo cards, customized logo cards and occupation-specific cards.
In addition to thousands of individuals and other smaller businesses who have already ordered the company's cards, nine out of 10 companies on the Fortune 100 list -- including Wal-Mart Stores Inc., Exxon Mobil Corp., General Motors Inc. and General Electric Co. -- have previously entrusted CardsDirect to supply them with their holiday card needs.
Swart urges companies to order cards now before the most popular selections are sold out and to provide time for shipping and mailing.
About CardsDirect LLC:
CardsDirect LLC, founded in 1998, is headquartered in Plano, Texas, and has been recognized eight years running as a distinguished dealer of greeting cards from industry leaders and manufactures. CardsDirect sells quality business cards, all occasion greeting cards, and other personalized holiday cards to tens of thousands of individuals and businesses, with orders ranging from 25 cards to 25,000. Other product lines include greetings for anniversaries, birthdays, sympathy cards, Thanksgiving, wedding invitations and many other occasions and holidays.
Press Contact:
For more information about CardsDirect's business holiday cards, Christmas cards and other holiday card products, or to arrange for an interview, contact Michael Swart at 1-866-700-5030 ex 107 or visit http://www.cardsdirect.com.
# # #