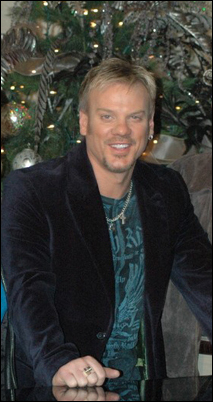 one of country music's most appealing voices
Nashville, TN (PRWEB) November 29, 2006
Join award-winning singer/songwriter Phil Vassar and his family for a down-home Christmas special on Great American Country network. 'Phil Vassar: Make a Little Christmas' premieres on GAC December 2 at 9 p.m. ET.
GAC viewers will experience the hustle and bustle of the holiday season at the Vassar household in the one-hour special in which Phil Vassar, his wife Julie and daughters Haley and Presley gather around the family piano and perform favorite Yuletide classics including 'White Christmas,' 'What Child is This?' and 'Away in a Manger.' The Vassars also share some of their favorite holiday videos by other artists such as Trisha Yearwood, Martina McBride and Faith Hill.
Phil and Julie learn a few lessons in the kitchen as well as they prepare a delicious holiday dish.
"Phil Vassar and his family paint a delightful picture of family life around the holidays. This GAC special is a warm, intimate look at a loving family celebrating their favorite Christmas traditions and sharing their home with GAC viewers," said Sarah Trahern, GAC senior vice president of programming.
"Christmas is a special time for me and my family. I get to slow down and relax and reflect. I am excited to be able to share a glimpse into my family and home with everyone on GAC," Vassar said.
Phil Vassar's star continues to rise. As a piano player, he is a rarity in country music and has proven himself as a performer and songwriter -- having been recently named 2006 NSAI Songwriter/Artist of the Year. Phil returns to the studio this winter to record a new album of original material that will be released in 2007.
His latest album, Greatest Hits Vol. 1, released in May 2006 and debuted on the Country album sales chart at #2 and #10 on the Top 200. The #1 single from the album, 'Last Day Of My Life,' was the fastest rising single in his career. The album also features five other #1 hits including Phil's own singles 'In a Real Love' and 'Just Another Day in Paradise,' as well as newly recorded songs that were made #1 hits by other artists including Jo Dee Messina's 'Bye Bye' and 'I'm Alright' and Tim McGraw's 'My Next Thirty Years.' Throughout his career, Phil Vassar has also penned hit songs performed by other artists such as Alan Jackson and Collin Raye as well as his own hit singles 'Carlene,' 'Six-Pack Summer,' 'Rose Bouquet,' 'That's When I Love You,' 'American Child' and 'I'll Take That As A Yes (The Hot Tub Song).' His follow-up single from the album, 'The Woman In My Life,' is an original composition co-written with his wife, Julie, and recorded for this album. It was inspired by the women in his life: his two sisters, his mom, his wife and two daughters.
The New York Times calls Phil Vassar "one of country music's most appealing voices," and the Orange County Register recently noted that "his performance was a hurricane of sound and the guy is a pro when it comes to connecting with the audience."
Air times and dates for 'Phil Vassar: Make a Little Christmas' on GAC:
Saturday, December 2, 9 p.m. ET
Sunday, December 3, 1 a.m., 6 p.m. ET
Sunday, December 10, 8 p.m., Midnight ET
About Great American Country (GAC)
Great American Country is America's main street for the widest variety of country music, its artists and the lifestyles they influence. In addition to country music videos, GAC features original programming, special musical performances and live concerts, and is the exclusive television home of the Grand Ole Opry. GAC is available in more than 44 million households and online at http://www.GACTV.com .
# # #