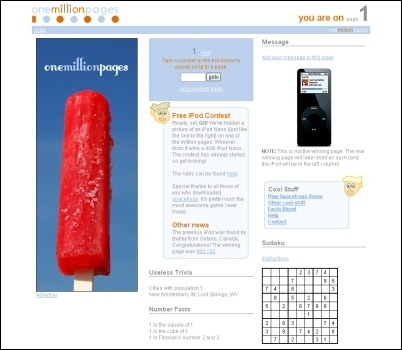 We're really excited about the attention our site is getting
Provo, UT (PRWEB) November 29, 2006
Onemillionpages.com is hosting a new contest for an iPod Nano this week. Hidden on one of the 1,000,000 pages of the site is an image of an iPod. The first visitor to find that page will win a 4GB iPod Nano. Regarding the contest Jacob Jenne, co-creator, said, "It's not your average contest: we won't be drawing names out of a hat or judging anything. We're just giving the prize to whoever finds it."
Onemillionpages announced last week that their first contest ended well and an iPod was awarded to the winner. The winning page was 800,102. During that contest, the site reported over 2 million hits including hundreds of thousands of page views. The average visitor to the site looked at approximately 200 pages. "We're really excited about the attention our site is getting," stated Jenne.
The site is supported by a new style of advertising. Advertisers can purchase space on specific pages throughout the site the same way that one would buy space on a billboard. The ads start for just $1 each and remain posted for up to one year.
More information about onemillionpages:
Onemillionpages.com is a web site featuring 1,000,000 unique pages. Each of the one million pages is a distinct HTML file and contains facts and puzzles like trivia and sudokus. The site features one million anagram puzzles, one half-million sudoku puzzles and a half-million word find puzzles. The site also includes treasure hunts that guide you through some of the million pages with tricky clues.
Interesting facts about this site include the following:
It took eight days (24 hours a day) to upload all of the files to the host server.
Although each page was trimmed as much as possible, the site still occupies almost seven gigabytes of space.
It took over 50 hours of processor time to generate all the puzzles and pages on the site including computer programs written in three different programming languages.
If you tried to look at all 1,000,000 pages at one page per second for 40 hours a week, you wouldn't finish seeing them all for almost seven weeks.
For contest rules or more information please visit http://onemillionpages.com
###