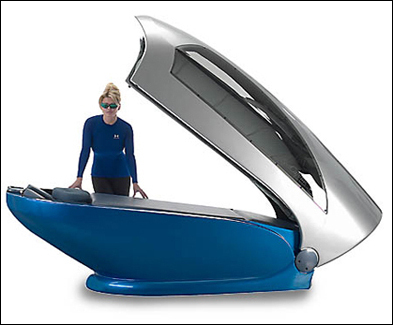 The SpaCapsule® has more earning potential than all of my tanning beds combined
Miami, Florida (PRWEB) December 5, 2006
Mortgage companies, closing or escrow agents, realtors, and insurance agents are always looking for ways to show appreciation to their customers. A traditional massage has been shunned as too personal, but now SpaCapsule® (http://www.spacapsule.com), the Massage and Aroma therapy appliance, is making this the gift worth giving.
"As a Realtor, I am always looking for nice ways to show appreciation to my customers; I have stuck with expensive gift baskets and useless trinkets until now. SpaCapsule® is a wonderful massage and aroma therapy; and because you can get-in-and-out without undressing, I am not concerned that my customers will be uncomfortable," stated Carol Henderson, a realtor in Greenville, SC.
The SpaCapsule® Unit and Marketing System, which is being sold to tanning salons across the country has added a tremendous opportunity that tanning salons have not been able to offer until now -- by offering on-demand massage and relaxation. The ability to cross-market with other businesses sets massage apart from tanning but also provides the potential for additional tanning customers. Smart tanning salon owners understand that with SpaCapsule® and its Marketing System they create an additional revenue stream, effectively establishing two businesses in one.
"I invested into the SpaCapsule because I loved the massage and aroma therapy, I knew that it would add a new ability to market my tanning salon; the recommendation to approach realtors, mortgage companies, closing agents, and insurance offices never crossed my mind until the SpaCapsule Marketing Team recommended it." Stated Julie Rehoric, owner of Paradise Tans in Mauldin, SC.
The SpaCapsule® Marketing System, which includes the SpaCapsule®, gives tanning salons and gyms a way to increase traffic and provides an opportunity to revive their inactive customers; now with the addition of gift certificate marketing programs, the system can usually have a return on investment of less than one year.
"The SpaCapsule® has more earning potential than all of my tanning beds combined" stated Jeff Mortland, owner of Paradise Tans, Linton, IN. The marketing team that SpaCapsule® provides sets them apart from any equipment I have ever bought."
About SpaCapsule®
Founded in 2000, Simulated Environment Concepts, Inc. / SpaCapsule® is a leading manufacturer of commercial and personal wellness equipment. For ultimate in personal wellbeing, relaxation, and rest the SpaCapsule® is a commercial-grade, self-contained, personal relaxation environment unit, encompassing: dry water-massage (user remains dry and clothed), aromatherapy, built-in audio and video; all in a self-contained capsule-shaped unit designed to invigorate and refresh all the senses. Simulated Environment Concepts is headquartered in Miami, Florida, and has International Distributors in over 25 countries.
For more information, contact Simulated Environment Concepts. Voice: 305.651.9200. Fax: 305.651.6505. Address: 20229 NE 15th Court. Miami, FL 33179. Web site: http://www.spacapsule.com. SpaCapsule is a registered trademark of Simulated Environment Concepts, Inc.
# # #