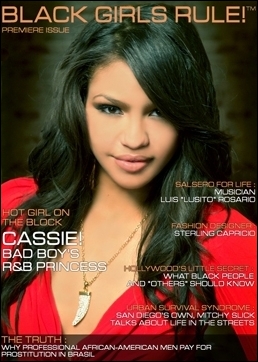 The magazine has been a labor of love and we hope that the public and the entertainment community will receive our online content with open arms
Los Angeles, CA (PRWEB) December 1, 2006
LCA Media is pleased to announce the launch of BLACK GIRLS RULE! TM (http://www.blackgirlsrule.us), a new alternative online source for entertainment and culture. BLACK GIRLS RULE! TM is the brainchild of Leslie C. Alessandro, who is best known as a celebrity photographer and interviewer as well as the owner of Level 10 Photography. Readers of BLACK GIRLS RULE!TM will find a diverse array of topics, including music, film and book reviews, fashion features, as well as celebrity interviews with artists, fashion designers and creative types. These are the people who are on the verge of making the "next" big moves in music, film and fashion. The magazine showcases artists that are part of the "underground" community, as well as features stories of human interest.
BLACK GIRLS RULE! TM is proud to present Bad Boy/Next Selection recording artist Cassie for its premiere issue and cover. The premiere issue also features interviews with actress Cynda Williams, rising soul singers Sy Smith and Lasonya Gunter, celebrity photographer Eddie Wolf, and many other notable individuals. Additional featured content in the premiere issue includes interactive audio and video selections as well as photo coverage of red carpet events including film premieres, fashion shows, and other high-profile events. "The magazine has been a labor of love and we hope that the public and the entertainment community will receive our online content with open arms," says publisher Leslie C. Alessandro.
Over the last five years, Leslie C. Alessandro has covered many of Hollywood's elite and its brightest stars. As one of the few noted black female photographers in the business, Leslie C. Alessandro has covered everyone from Eva Mendes, Mark Wahlberg, Duane "The Rock" Johnson, Michael Vartan, Jeremy Piven, Adrian Grenier to Quincy Jones and Paris Hilton. Leslie is also noted for photographing and interviewing many of music's royalty and hottest acts, such as Macy Gray, Chingy, Faith Evans, Common, Pras, Mario Winans, New Edition Amel Larrieux, Erick Sermon, T.I., Nina Sky, Floetry, Grandmaster Mele Mel and Rick James. With all that she has accomplished over the years, Leslie felt it was time to create a magazine that was outside the norm of "traditional" and "urban." Hence, BLACK GIRLS RULE! TM was created.
Media Contact:
LCA Media
Web: http://www.blackgirlsrule.us
Tele: 866. 652-8340
# # #