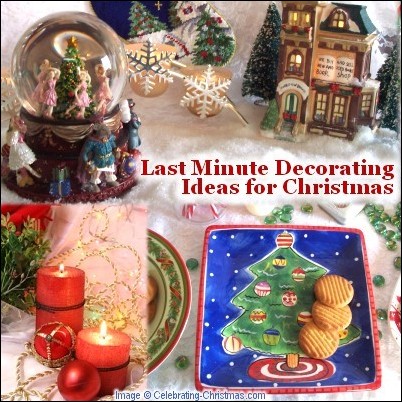 (PRWEB) December 5, 2006
These simple, yet stunning ideas from this year's annual issue of 'Celebrating Christmas PDF Magazine' will transform your home for Christmas in no time at all, and impress your guests no end.
1. Try some Christmas-themed bedding in the guest room. Stores like Wal-Mart, K-Mart, JCPenney and the like have some cute Christmas themed bedding sets for sale.
2. Grab some colored candles. Red and green are always ideal choices, but you also can never go wrong with classic ivory. Floating candles are also great for the holidays. Fill a glass bowl with water (add green food coloring for a festive effect) then simply float these special candles right on top! Or, try electric candles. If kids or pets are a concern, electric candles provide a festive glow that's safer than the real thing.
3. Festoon your stairwell with evergreen garland or even white lights for a pulled-together look. Large bows of plaid ribbon never fail to impress.
4. Hang a wreath on the door. You might not have time to make your own, but with a quick shopping trip you can find some gorgeous choices.
5. Try a red, green, or holiday patterned tablecloth to add a Christmas-y look to the table. If your tablecloth is a solid color, try some cute patterned placemats. If the tablecloth is patterned, then go for solid placemats. You could also try a festive holiday runner on your mantle, on top your entertainment center or across the length of your table for easy glamor.
6. A holiday-themed welcome mat is a cute way to welcome guests to your home.
7. For a quick and easy way to decorate your tree, string white lights around it then hang cellophane wrapped candy canes from the branches. Our 'A Candy Cane Christmas' article has loads of ideas for using Candy Canes for Christmas decor.
8. Grab some decorative knickknacks from your local discount store. Figurines and snowglobes are always cute when placed on shelves and mantles.
9. Pick up a set of Christmas dishes. Dining has never been more festive or fun!
10. A few strands of white lights on your porch or around shrubbery in the front yard is an easy way to make your landscape more festive.
11. Try some silk poinsettia plants placed in areas around your home for child and pet-friendly beauty.
12. Hang some mistletoe in the doorways, as tradition dictates!
13. Place glass bowls or jars filled with candies around your home for a cute look and something for your guests to enjoy.
14. Make a quick table centerpiece with a chunky, tall candle wrapped with evergreen garland at the base.
15. If you've received Christmas cards, display them on a shelf or even hang them on the wall as artwork.
This tip sheet is an excerpt from the Christmas 2006 issue of the annual 'Celebrating Christmas Magazine'. Celebrating Christmas Magazine is internet's first, 'Free to Download and Print' holiday magazine available in PDF format. It has been hailed as the hottest holiday publication of 2006 by readers and editors alike. The magazine is filled with new and unique holiday recipes, homemade gift ideas, holiday decorating ideas, party planning ideas, holiday craft projects and activities for kids.
Download the full magazine for free at http://www.celebrating-christmas.com/magazine.shtml.
###