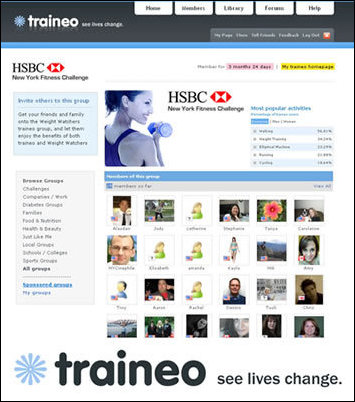 Traineo Groups give any user the ability to set up their own 'mini' social network to work together towards their goals. It's a very powerful concept that fosters motivation, teamwork, and collaboration within our community
Cambridge, MA (PRWEB) December 6, 2006
Traineo.com (http://www.traineo.com), the web's fastest growing online fitness community, announced that users can create 'Traineo Groups' to share goals, tips, progress and inspiration amongst peers with similar fitness challenges and experiences.
Users are able to create Traineo Groups using a fast and simple sign-up tool that even allows members to personalize their groups with unique color schemes and logos. Members of the Traineo community are able to browse, join and view group details via a global group directory or directly via each group's unique URL. Privacy options allow groups to be hidden or invite only, making Traineo Groups the ideal starting place to organize a private family fitness team, inter-office 'biggest loser' challenge; or a hub for like-minded individuals to work together towards a common health and fitness goal.
"Traineo Groups give any user the ability to set up their own 'mini' social network to work together towards their goals. It's a very powerful concept that fosters motivation, teamwork, and collaboration within our community," said Traineo.com CEO, Alasdair McLean-Foreman. "We're really excited to see these Traineo Groups flourish as our members work together to motivate each other towards healthier lives."
To learn more and to join a Traineo Group please visit http://www.traineo.com to sign-up for a free account - public Traineo Groups are visible via the traineo Group directory link via your account homepage.
About Traineo.com
Traineo.com is a free and intuitive weight loss application that offers effective exercise and diet visual tracking tools. More than a simple training log, Traineo.com also provides members with a built-in support system through its social networking community. Members can choose up to four 'motivators' who receive weekly email updates outlining the member's progress toward his/her weight loss goals. Traineo.com also offers resources and tips from the world's leading health and fitness experts through a database of articles and within the active discussion forums. Traineo.com was launched in August 2006 by HDO Group LLC.
About HDO Group LLC
HDO Group LLC is a provider of innovative health and fitness technology and services via the internet. Founded by Alasdair McLean-Foreman, whilst studying at Harvard University and competing for England in Track and Field, HDO Group LLC was formed in 2000 with a mission to offer an exciting new dimension to consumers in health and fitness markets.
Technology by BluBolt
HDO Group LLC partnered with UK based BluBolt (http://www.blubolt.com) to develop the technical components of traineo.com. For more information on the technology behind traineo.com please visit http://www.traineo.com/blubolt.
###