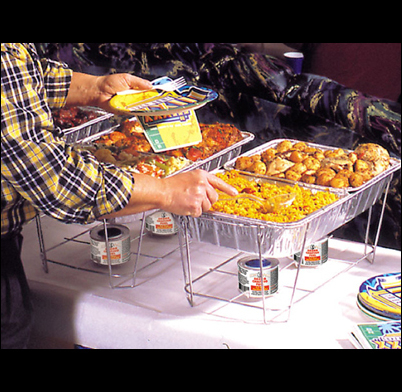 The wire chafing stands were so thin, cheap, and poorly welded that they'd come apart in your hand
Paterson, NJ (PRWEB) December 5, 2006
At picnics and parties across America, a danger is lurking that could not only turn celebration to tragedy but also pose a huge liability risk for retailers, caterers, and those involved with hosting events or gatherings. The culprit: poorly designed, imported food warming chafer stands that can tip, fail, or present a burn/fire hazard when used over open-flame fuel cans.
Known as wire stands, these wire frames supporting hot trays of food over "keep warm" flames are widely used in the catering industry and increasingly common purchases at party stores and other big box retailers. Their popularity has grown as a way to keep food hot during the party while freeing the host, since guests commonly serve themselves buffet-style. But many imported wire stands are cheaply made and of poor design -- making them a potential threat to a largely unsuspecting public.
"The wire chafing stands were so thin, cheap, and poorly welded that they'd come apart in your hand," says John Cuomo, owner of A World of Food Catering, based in Rockland County, New York, whose long-time supplier had switched to an imported brand. "Under the weight of the food and steam trays, they'd be dangerous. I made my supplier remove them from my place of business."
"Picture a Superbowl reveler scraping lasagna from a food tray kept warm over open-flame fuel cans," adds Robert Skvorecz, President of Skorr Products, a Paterson, New Jersey-based wire chafer manufacturer. "He's got one eye on the game and presses a little too hard in the corner and along the side of an imported, narrow-stance wire stand. The entire tray could tip, spilling the contents over him."
The burn hazard stems not just from the lit fuel cans or the hot contents of the food tray, but also from the up to 1.5 gallons of boiling water typically kept in a separate steam tray below the food trays for even warming. For children, whose faces may rise just above table or counter height where wire chafing stands usually rest, the burn risk is worse.
For retailers, caterers, and those involved with hosting events looking to eliminate the heightened risk of burn/fire hazard stemming from poorly designed wire chafer stands with tippable, narrow-stance and weaker wire/welds, proven domestic designs may provide a less-risky alternative.
Skorr wire food warming stands use a multi-patented design with four flat-bottomed corner legs for the widest stance and greatest stability in the market. Because the legs are placed in the corners with a stance significantly wider than typical overseas products, the stand has maximum lateral support to prevent tipping and rollovers.
For greater structural integrity to prevent collapse, Skorr uses wire of significantly heavier gauge and stronger welds than imported competitors. For critical support of the food and steam trays, which can weigh up to 30 lbs. when fully loaded with heavy entrees and water, Skorr's design provides eight vertical supports extending from the table to the upper rim instead of the typical four.
"The safety factor can't be underestimated," says Cuomo. "The Skorr wire stands are thicker, stronger, and more stable so there's no worries. A party, after all, is about celebration. The Skorr wire food warming stands ensure the food is fresh, hot, and safe."
Skorr wire chafer stands have won the Best Quality Award from the Professional Chefs Association.
For more info, write to Skorr Products at 90 George St. Paterson, NJ 07503; call Robert Skvorecz at 973-523-2606; Fax 973-523-3009; or visit http://www.skorrproducts.com
Del Williams is a technical writer based in Torrance, California.
# # #