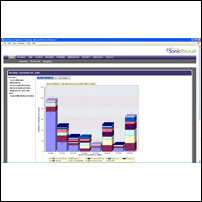 SonicRecruit customers asked for more visual analysis of key hiring performance metrics, and they now have them
VANCOUVER, BC (PRWEB) December 5, 2006
Cytiva Software Inc. (CRX:TSX-V), a leading provider of mid-market talent acquisition solutions, today announced the availability of a new analytics dashboard for its flagship SonicRecruit recruiting system.
With the release of this new intuitive interface to vital recruiting metrics, clients can quickly see how their organization is performing in key areas like candidate source efficiency, hiring performance, candidate status checks and more.
The addition of this new functionality highlights a key advantage of SonicRecruit's uniquely flexible on-demand delivery model. Because Cytiva hosts SonicRecruit on its own secure servers accessible over the internet, new and prospective clients can take advantage of the new Analytics Dashboard immediately – without upgrading or waiting for expensive customizations.
"SonicRecruit customers asked for more visual analysis of key hiring performance metrics, and they now have them," said Jason Moreau, CEO of Cytiva. "SonicRecruit's flexible architecture and on-demand model not only allows us to deliver custom-tailored configurations to each client, it also lets us quickly deliver new functionality to all clients at once."
The new SonicRecruit Analytics Dashboard feature is available immediately to clients at no additional cost.
About Cytiva Software Inc.
Cytiva Software Inc. (CRX:TSX-V) provides innovative recruiting products and services to mid-sized and Fortune 500 companies. With its flagship product, SonicRecruit, corporations can automate their recruiting efforts and customize their corporate career sites. SonicRecruit, a premier talent acquisition system, improves recruiting effectiveness, speeding up the hiring process and reducing cost per hire. Cytiva has over 160 clients and is based in Emeryville, CA, with six offices in the U.S. and Canada.
For more information:
http://www.sonicrecruit.com
Ian Alexander
510-984-1986
The TSX has not reviewed and does not accept responsibility for the accuracy or adequacy of this news release, which has been prepared by management.
This press release was distributed through eMediawire by Human Resources Marketer (HR Marketer: http://www.HRmarketer.com) on behalf of the company listed above.
###