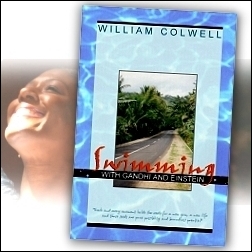 To be human is to learn from, and rise above, life's challenges
Toronto, Canada (PRWEB) December 6, 2006 -
True Flight Publications introduces a new book by author William Colwell, entitled "Swimming with Gandhi and Einstein." Through a logical, yet simple, step-by-step process William's book literally proves that there is no world outside of the human mind. From this vantage point the book reveals how people can powerfully live and thrive in the face of negative or traumatic life events.
On November 26th 2006 the CBS news program 60 Minutes reported on a drug called Propranolol commonly used for high blood pressure, heart or circulatory conditions and migraines. A new study seeks to treat post traumatic stress disorder by using Propranolol to weaken the memories of traumatic events. According to the study it may be possible to lessen bad memories by blocking the adrenaline associated with those memories.
However, according to William Colwell a drug may not be the best solution. "To be human is to learn from, and rise above, life's challenges," says William. "Happiness and peace are waiting for us on the other side of adversity."
Ultimately, William's book discloses that there is, in fact, no such thing as a stressful or negative situation. Readers are given the tools to begin to see that they are co-creators, not only of their own lives but also of the world around them. They can have the ongoing realization that a challenge can actually be a gateway to a peaceful and happy life. No drug prescription is required.
This is echoed by readers like Peter Burton, President of Pathway Patient Advocates: "This book is a refreshing perspective that empowers one to ultimately triumph over the stresses and strains of everyday life."
Swimming with Gandhi and Einstein, which also happens to be a humorous travel story based on true events from the author's life, is receiving strong reviews which can be viewed at swimmingwith.com or at amazon.com.
Synopsis:
It is the story of a man named James Connelly who travels halfway around the world to the heart of a beautiful and exotic land. During his travels through Indonesia, James crosses paths with two mysterious and fun-loving characters who guide and teach him. The words of these two great men take James on an excursion through the heart of what it means to be human, and in the process, his life is profoundly transformed.
For more information contact:
William Colwell
905-876-1443
# # #