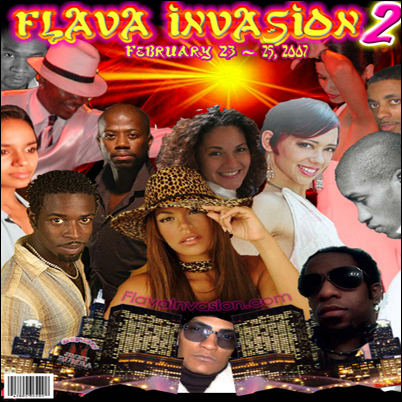 The Best Salsa Dance Company In the World
Atlanta, GA (PRWEB) December 6, 2006
Atlanta, Ga --- SalsaAtl.com and Gordon Neil present Flava Invasion II, the only event of it's kind. If you've ever been entranced by shows like "Dancing With The Stars", "So You Think You Can Dance", and "Dance Fever", then you do not want to miss this extravaganza by any means. Latin dance is sweeping the world, and from the 23-25th of February 2007, you can be a part of it.
Never before has there been a show like this, bringing performers from all over the world. They're coming from Italy, Puerto Rico, The Netherlands, United Kingdom, and every point in between. Come and engulf yourself in the hot, steamy, and sensational world that is "salsa". And if you're not content with just the phenomenal show, you can even take classes guest instructors to help you complete your "world traveler" repertoire.
For details and registration log onto http://www.flavainvasion.com or call
404.246.4148 or email msheriff69@yahoo.com
Who is Coming? See Below for this Unbelivable Lineup of Talent.
Tropical Gem(Italy) -Directed by two of salsa's finest dancers/choreographers - Fernando Sosa & Rafael Gonzalez - Italy's Tropical Gem is acknowledged around the globe(by their peers and fans) as "The Best Salsa Dance Company In the World".
Ana & Joel Massicot w/Masacote Dance Company(Boston) -The husband & wife team of Joel Massicot and Ana Tinajero-Massicot, is one of the best couples in salsa/mambo.
Orville Small & Sabrina Buis(Holland/Canada) -"A force of nature on stage"...that is how one person describes Orville Small & Sabrina Buis.
Maricza Valentin(Chicago) -As the director of the Latin Rhythms Dance Company in Chicago, Illinois, Maricza Valentin has proven herself to be one of the finest choreographers in salsa/mambo.
PsyonMauricio Scott(Washington D.C.) -PsyonMauricio Scott has long been acknowledged by aficionados of salsa/mambo as one of the best male dancers in the industry. As the creator of "Close Combat Mambo", a style exclusively his, he confuses and amazes the most experienced choreographers, performers, and instructors.
Griselle Ponce(New Jersey) -Griselle Ponce is known to many as "The Diva". And rightly so. Women around the world base their dance style on this woman. Known for her sexy movement, amazing beauty, electric smile, and "insane" stage presence.
Jareau Almeyda(imambo.tv/New York) -Want to know what and who's happening in the world of salsa/mambo? One of THE sources for you - http://www.imambo.tv. The man behind imambo.tv? Jareau Almeyda. You want to be seen? Then be seen on http://www.imambo.tv.
Joby Brava(Los Angeles) -Joby Brava needs very little introduction. One of the leading ladies of L.A.'s salsa/mambo community and the world's, Joby was also co-founder and co-director(with former partner Luis Vazquez) of the now defunct, yet legendary, Salsa Brava Dance Company.
Gordon Neil(Atlanta/Darknessland) -Often praised for his interpretation and new vision for salsa/mambo, Gordon Neil is acknowledged by the best of choreographers and performers as being one of the finest choreographers/performers to ever take the stage.
Bachata Greg & Marquita Bianca ( Atlanta , GA - Virginia Beach , VA ) -"Get ready to feel the passion!!" Instructor/ Performer/ Choreographers Bachata Greg & Marquita Bianca are recognized as two of the dance worlds freshest, up and coming talents.
Leon Rose(London, UK) -No dancer in the United Kingdom is more recognized as a choreographer, performer, and instructor, than Leon Rose. One of the creators of "London Style Salsa", Leon is known for his vibrant energy on stage and off.
Troy Anthony & Jorget Alcocer(New Orleans) -Jorjet Alcocer & Troy Anthony of Latin Motions in New Orleans are known for creating "Creole Style" (an even mix of L.A./N.Y. Style w/ a Cuban presence).
Sekou McMiller(Chicago) -Sekou McMiller has developed his style of salsa/mambo dancing. Rich with Afro-Cuban and Afro-American essence and laced with techniques from many genres of dance.
Magna Gopal(Canada) -Magna Gopal is one of the top international performers and instructors in the salsa scene. She is based out of Toronto, Canada and is internationally known for her grace, fluidity and precision on the dance floor. Her smooth style is a pleasure to watch and experience; her limitless energy ensures her presence on the dance floor all night.
Shaka Brown(Washington D.C.) -Shaka Brown is easily recognized as one of the best dancers/instructors in salsa/mambo. As an instructor he has influenced and guided more people than anyone can count.
Juan Matos & Marco Ferrigno - Fogarate(New York/Dominican Republic/Italy) -The Republica Dominicana's own Juan Matos, is quite possibly the single most renowned male salsa/mambo dancer in the world...either that or not far from it.
Salsa is usually a partner dance form that corresponds to salsa music. In some forms, it can also appear as a performance dance. The word is the same as the Spanish word salsa meaning sauce, or in this case flavor or style.
The Spanish-speaking population of the New York area baptized Celia Cruz as the "Queen of Salsa."
History
Salsa music is a fusion of traditional African and Cuban and other Latin-American rhythms that traveled from the islands (Cuba and Puerto Rico) to New York during the migration, somewhere between the 1940s and the 1970s, depending on where one puts the boundary between "real" salsa and its predecessors.
###