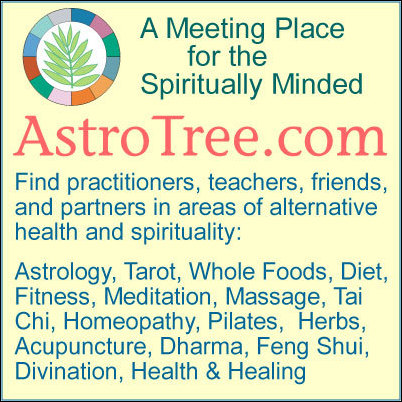 Big Rapids, MI (PRWEB) December 7, 2006
Internet users searching for practitioners, teachers, counselors, and readers in a wide variety of alternative spiritual and health areas can now browse a single site to compare resumes, qualifications, and skills, and contact the experts that interest them. Moreover, they can chat in real-time and share in a variety of alternative communities.
AstroTree.com is a sophisticated online social network and directory for the alternative health and spiritual community -- practitioners, teachers, and readers of unconventional methods of health, spirituality, meditation, and counseling, such topics as astrology, tarot, shamanism, whole foods, vitamins, divination, massage, and all manner of what used to be called "new age" interests. Much more than a directory, AstroTree.com provides a sophisticated social network (blogs, photo galleries, clubs, searches, etc.) for the alternative health and spiritual community, beginners and professionals alike.
Aside from a robust social network, AstroTree.com features a built-in Instant Messaging service written in Adobe Flash, that works within the Internet browser, and requires no software to be downloaded to the client's computer. This Instant Messenger allows online conversations, instant contacts, and even full-scale classrooms at the click of a button.
AstroTree.com is the latest brainchild of well-known award-winning archivist of popular culture, Michael Erlewine, who founded and developed mega sites like AllMusic.com, AllMovie.com, AllGame.com, TheNewAge.com, and many others.
Contact:
Michael Erlewine, 231 796-6532
Fax: 231 796-6532
###