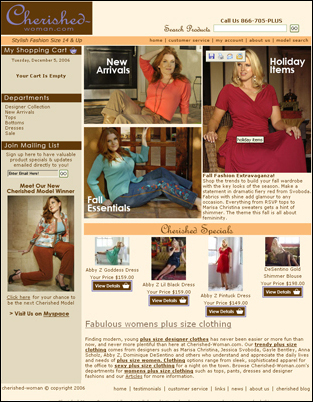 Aliso Viejo, CA (PRWEB) December 6, 2006
Women in search of trendy plus size clothes for their holiday parties won't be left out in the cold if Nancy Baum has her way.
Baum, owner and founder of Cherished-Woman.com, is setting the winter runway ablaze with hot designer plus size fashion from two top designers, new to her online trendy plus size clothing boutique.
"I am very pleased to add Abby Z and Dominique DeSentino to my collection. Both of these talented designers know how to design for a plus size woman's body," explains Baum, herself a former plus size model. "When you put on an Abby Z dress or a DeSentino blouse, you can feel the difference. Their clothing may be expensive but you will love how you look and feel in them, and that feeling is priceless."
Each of these designers not only has an innate sense for flattering lines, but has an impressive resume to match, Baum said.
"(DeSentino) is one of the first designers to offer couture clothing for plus size women," Baum said. "In addition, we picked up one of the hottest plus size designers in New York, Abby Z, for holiday dresses. Abby styles the top plus size celebrities and knows how to enhance a woman's curves."
The designers' holiday pieces feature graceful lines, sexy colors, intricate detail and superior construction to make curvy women feel feminine and confident.
"The best features about Abby Z holiday dresses are that they are feminine and sexy at the same time, whether you want to make a statement in red with the Pintuck Dress or go fifties-style glam in the Goddess Dress or show of shapely legs in the Lil' Black Dress," Baum said. "DeSentino's Couture Collection, featuring the Gold Shimmer Blouse is also a must-have this holiday season."
In addition to the new holiday designs from DeSentino and Abby Z, Cherished-Woman.com's boutique collection of trendy plus size clothes also features designer plus size fashion from Jessica Svoboda, Gayla Bentley and Marisa Christina.
Unlike most online retailers, Baum said, Cherished-Woman.com's designs are shown on size 16 models on the boutique's Web site, so shoppers can easily see how the site's plus size tops, pants and dresses look on a fuller figure.
About Cherished-Woman.com:
Cherished-Woman.com, an Internet retailer of trendy plus size clothes, was founded by Nancy Baum, entrepreneur and former plus size model. The upscale boutique features trendy designer plus size fashion aimed at bringing out the natural femininity and vitality of the full-figured woman. Cherished-Woman.com's plus size designer clothes include plus size sweaters and blouses and plus size pants, sexy, slimming Svoboda jeans and other designs by Marisa Christina, Gayla Bentley, and now Abby Z and Dominique DeSentino.
###