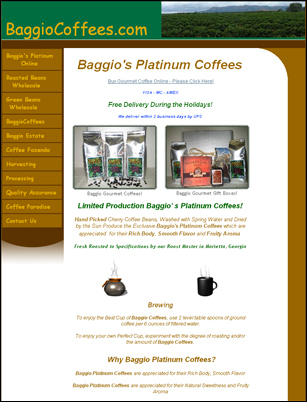 Atlanta, GA (PRWEB) December 6, 2006
There's no shortage of places to get a cup of coffee in the United States, but many Americans still have never had the opportunity to enjoy a truly fresh brew -- one made from beans that haven't first changed hands several times on their way to US store shelves. With that in mind, Liana Baggio Ometto and Fernando Mera were determined to personally oversee the importing of beans from the Baggio Estate, owned by Liana's father Jose Astor Baggio, to their Roasting Master in Atlanta, GA.
Fernando and Liana have since launched BaggioCoffees.com, where consumers can buy gourmet coffee online. Their site offers a growing variety of premium gourmet coffee in a selection of roasts and flavors, as well as an assortment of gift sets. They feature prompt two day delivery to ensure the freshest possible products and are currently offering free shipping through the end of the holiday season.
The Baggio Coffees partners are excited about the opportunity to fulfill a niche in the US market by providing a way for consumers to buy gourmet coffee online directly from the growers. "We are so proud to offer our hand picked, spring washed and sun dried Baggio Platinum gourmet coffee beans directly to the United States," said Jose Astor Baggio.
Mera says that fresh beans from the Minas Gerais area of Brazil, where the Baggio Estate is located, are considered to be among the world's best gourmet coffees. "Our coffees are appreciated for their rich body, smooth flavor and fruity aroma," he says, adding that his coffees are connoisseur products just like fine wines or cigars.
Baggio Platinum coffees also bode well in comparisons to other coffees due the fact that all the beans originate from the same estate. By not blending their beans at any stage, Baggio Coffees can ensure consistent quality from bag to bag and year to year. Mera says that interested visitors are always welcome to tour the estate of Jose Astor Baggio and see the care and quality that goes into every harvest.
The Baggio family tradition of cultivating fine gourmet coffee beans began when the family emigrated from Italy in 1886. Beginning by growing coffee in the States of Sao Paulo and Parana, they sought out special land in the fertile soil of Minas Gerais for growing the highest quality beans. This is where they grow specialty coffee beans, also known as cherry coffee beans, at an elevation of 3,000 feet. These are the same beans used today in Baggio Coffees' Platinum Quality Gourmet Coffees. Baggio Platinum Coffees main market for many decades has been Italy where its rich body and smooth flavor has been highly appreciated by espresso lovers.
To read more about the tradition and care that goes into the premium gourmet coffee from Baggio Coffees or to buy gourmet coffee online, please visit baggiocoffees.com.
About Baggio Coffees:
Baggio Coffees is a seller of Platinum Quality coffee beans grown on the Estate of Jose Astor Baggio in the Minas Gerais area of Brazil. The Baggio family uses traditional farming methods, fair labor, and best quality control technology to produce the Best Cup of coffee in harmony with the environment. The ripe cherry coffee beans are hand picked, spring washed and sun dried. The select coffee beans are available fresh in the United States market via the Internet at BaggioCoffees.com. These amazingly fresh beans are transported directly to Atlanta, GA, where they are roasted to order and delivered to consumers within two business days. Baggio Coffees are appreciated for their rich body, smooth flavor, and fruity aroma. In addition to providing premium coffee for the general public online; the partners of Baggio Coffees are also excited about the opportunity to provide fresh green or roasted beans to roasters, coffee shops, retail stores and any organization that may be interested in buying Baggio's Platinum coffee at preferential wholesale prices.
###