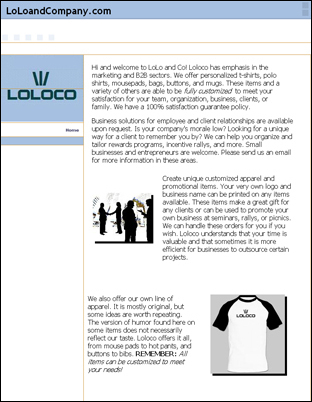 Showing appreciation to the employee or customer is all that is needed to make a difference in sales or morale
Newport News, VA (PRWEB) December 6, 2006
Nike, Old Navy, Gap, DKNY ... these are just a few of the brands known around the world, not because they advertise more than their competitors, but because they have effectively leveraged customers' willingness to actively promote their brands. Few advertising strategies are nearly as effective as the word of mouth endorsement, and as business to business marketing tools, the corporate branded t-shirt, company logo coffee mugs, custom company hats, pens and even electronics deserve more serious consideration of their role in the marketing mix.
While corporate logo apparel, personalized company mugs, company logo hats and other items are not new business to business marketing tools, access to quality merchandise and professional printing services has typically required hands-on management by dedicated company staff. But proliferation of internet-based resources has streamlined what used to be a time-consuming process, and made logo products easily accessible and cost effective to smaller companies and charitable organizations. Even personalized family reunion shirts have become a fashionable, price accessible must-have for gatherings.
LoLo and Company, Inc., which is also known as LOLOCO, recently launched LoLoandCompany.com to serve the business to business marketing needs of new and existing companies who recognize the value of logo items in their promotions mix as effective business to business marketing tools and as employee spirit and morale boosters.
"Showing appreciation to the employee or customer is all that is needed to make a difference in sales or morale," says Laurance Turner, President of LoLo and Company, Inc., referring to LOLOCO's extensive line of apparel and products which can be customized for any business or organization. "We can help to implement programs to improve the perception of the company with clients and employees," Turner continues about LOLOCO's ability to act as a complete outsourcing arm for businesses wishing to create customized logo wear and products for their employees and customers.
Companies like LOLOCO make apparel customizing so accessible and cost-efficient that a quickly growing portion of their business is coming from providing family reunion shirts, hats, and mugs and even creating personalized custom clothing and custom women's clothing. Personalized family reunion shirts are by far the most popular items.
Companies and organizations looking to incorporate personalized apparel, company coffee mugs, company hats and other custom items into their business to business marketing strategy can find more information at loloandcompany.com.
About LoLo and Company, Inc.:
LoLo and Company, Inc. was founded by Laurance Turner to provide easy-access business marketing solutions to companies and organizations through customized and branded apparel and merchandise.
###