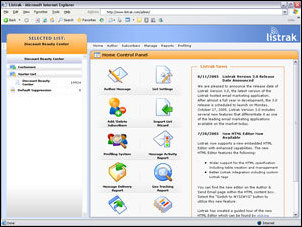 Email direct marketing is the clear winner when it comes to efficiency and cost-effectiveness for both B2B and B2C businesses
Lititz, PA (PRWEB) December 6, 2006
As marketers engage in substantial holiday ad campaigns, they're finding significant success this year in email direct marketing. In fact, even print campaigns, like Sephoria's full-page October advertisement in "O" magazine, are beginning to promote opt-in email marketing list registration. Once customers opt-in to email marketing systems, companies have found noteworthy increases in ROI.
What benefits are email marketers seeing? According to the Direct Marketing Association (DMA), email direct marketing provides the highest ROI, with $57.25 returned for every dollar spent in 2005 compared to just a $7.08 return for print catalog and $22.52 for non-email Internet marketing ad spend.
The DMA further predicts U.S. email-driven sales providing a compound annual growth rate of 14.9 percent between 2006 and 2011. Already, commercial bulk email marketing campaigns have generated $16.5 billion in sales for 2005 in the United States, with sales expected to reach $18.5 billion in 2006 and $37 billion by 2011. Many businesses are finding these success metrics hard to ignore.
"Email direct marketing is the clear winner when it comes to efficiency and cost-effectiveness for both B2B and B2C businesses," states Ross Kramer, CEO. "Companies that choose to leverage this technology and perfect their strategies now should have a greater advantage in the years to come."
Listrak provides integrated solutions to help businesses get ahead, helping them address the complexities of list management and email direct marketing campaign delivery, Their strategic approach to mass email marketing automates list hygiene, spam score management and list segmentation.
Listrak's targeted email direct marketing solution helps companies strengthen their lead retention rates. To learn more about the Listrak bulk email service, read email direct marketing articles, white papers and customer newsletter archives, visit http://www.listrak.com.
About Listrak
Listrak is a leading provider of hosted email marketing software that allows permission-based marketers to manage, send, track and grow their email marketing investment. Listrak services clients such as Daimler Chrysler, Motorola, L'Oreal and the Islands of the Bahamas from its Lititz, PA headquarters. Listrak was named the 2006 Small Business Technological Excellence Award winner by the Philadelphia Chamber of Commerce, a Top Fifty Fastest Growing Company in 2006 and 2005 by the Central Penn Business Journal and the 2005 Growth Company of the Year by the Technology Council of Central PA.
# # #