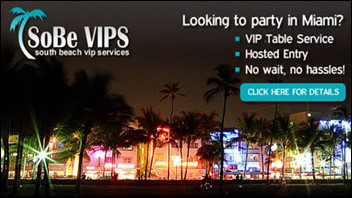 Miami Beach, FL (PRWEB) December 7, 2006
SoBeVIPs.com- South Beach VIP concierge, SoBeVIPs.com, announces its official release of South Beach New Year's Eve tickets to the public, offering tickets to such venues as Mansion, Privé, and Opium Garden. Tickets include premium open bar and Champaign toast and are available as a General Admission ticket, good for a single entry, or as a VIP table ticket, good for parties of 6 or 8 people and up. Prices range from $150 for general admission to $3,700 for VIP table service.
New Year's Eve 2007 promises to be a star-studded affair with celebrity hosts such as Wilmer Valderrama, DJ AM, Travis Barker, James Franco and Kristen Cavallari.
With New Year's Eve falling on a Sunday night this year, SoBeVIPs.com is providing VIP party planning for the rest of the weekend. Offering personalized itineraries, VIP hosting, and reservation services, SoBeVIPs.com can provide a group of 2-25 people with event planning for their entire VIP weekend.
In addition to normal VIP hosting duties, SoBeVIPs.com is also providing a new Hosted Entry Party Pass. This pass entitles it's holder to escorted entry by a SoBeVIPs host through the VIP entrance of the club with no wait on line. There are a limited number of Hosted Entry passes available for each venue and they cost $65 each.
For more detailed information about SoBeVIPs.com's New Year's Eve offerings, go to SoBeVIPs.com's website at http://www.sobevips.com.
###