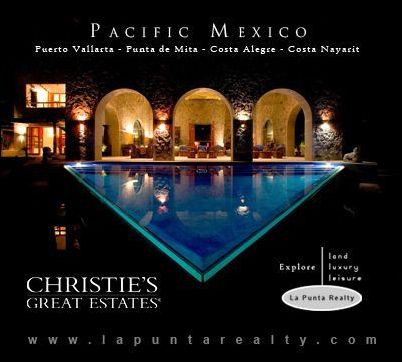 We chose to partner with Christie's Great Estates because we saw compelling value for our clients
Puerto Vallarta, Mexico and Santa Fe, NM (PRWEB) December 7, 2006
La Punta Realty [http://www.lapuntarealty.com
has been selected as an exclusive affiliate of Christie's Great Estates, a wholly-owned subsidiary of Christie's International plc, the world's oldest fine art auction house. Through La Punta Realty, buyers and sellers of high-end real estate in Puerto Vallarta, Punta de Mita, Costa Careyes, Costa Alegre and Costa Nayarit now have access to the combined marketing efforts of Christie's and Christie's Great Estates.
Christie's Great Estates is the largest international luxury network of real estate brokers specializing in the marketing and sales of high-end properties. This network of carefully selected real estate firms includes more than 650 offices and approximately 20,000 sales associates in more than 30 countries.
"I am thrilled that La Punta Realty has joined as our first Mexican affiliate", said Rick Moeser, Vice President of the Southeast Region, Caribbean and Latin America. "La Punta Realty offers exceptional marketing for high-end properties along a great portion of Mexico's Pacific coast."
"We chose to partner with Christie's Great Estates because we saw compelling value for our clients," said Alexis Burwell, Partner of La Punta Realty. "Christie's far-reaching international marketing efforts and highly-qualified client base are the perfect complement to La Punta Realty's already robust marketing program for fine properties. Being the first Christie's Great Estates affiliate in Mexico makes this affiliation a particularly powerful one for La Punta Realty clients."
About Christie's Great Estates
Founded as Great Estates in 1987 and acquired by Christie's in 1995, Christie's Great Estates is a wholly owned subsidiary of Christie's and is dedicated to the marketing and sale of important properties worldwide. Christie's Great Estates is the largest network of independent real estate brokers specializing in the sale of important luxury properties. This carefully selected network of real estate firms includes more than 650 offices and approximately 20,000 estate agents in more than 30 countries, offering local expertise combined with worldwide reach. The network's combined sales exceed $75 billion.
For additional information about Christie's Great Estates, please contact Kay Coughlin, President and CEO, at +1 505 983 8733.
For additional information about Christie's Great Estates, please contact Kay Coughlin at 505-983-8733.
About La Punta Realty [http://www.lapuntarealty.com
Founded in 2000, La Punta Realty has offices in Puerto Vallarta, Punta de Mita, San Francisco, Nayarit dedicated solely to the marketing of luxury real estate in all of La Punta Realty's markets. Their exclusive program has set the industry standard for the marketing of estate properties and is backed by the efforts of their extensive network.
Explore the coveted coastline around Banderas Bay. Our area covers from San Blas along Costa Nayarit, to Punta de Mita, Puerto Vallarta, South to Costa Alegre, Costa Careyes to Barra de Navidad.
The well kept secrets of Pacific Mexico's dramatic cliffs, coves and sand have long attracted the Blue blooded and Hollywood set looking for a quiet escape at secret hideaways like Costa Careyes. Click here to read a NY Times travel feature about Costa Careyes and Costa Alegre. [http://lapuntarealty.blogspot.com/2006/09/costa-careyes-mexico-pacific-resort.html#links
Since opening up to foreign investment, Mexico has seen an explosion in luxury residential resort development, particularly North Shore Puerto Vallarta and Punta de Mita the boom has brought world-class resort hotels, Mexico's famed architects, a community of celebrity CEOs, and a massive outlay of government infrastructure. This is where most of the exclusive luxury investments are taking place, which Andrew Harper's Hideaway Report, a bible for luxury travelers, highlighted the Four Seasons, Punta Mita in its 25th annual readers' survey the Best International Resort.
The development of North Shore Puerto Vallarta, Punta de Mita [http://puntademita-realestate.com and the Nayarit coast is a special phenomenon for Mexico. Low density developments preserve the environment and create a balance that is essential for the high end coastal lifestyle that people dream about. It is truly amazing what is happening. There are many active developments to choose from along the North coast and the properties are selling well.
Premiere hotel branded developments include the world renowned Four Seasons Resort [http://www.fourseasons.com/puntamita , the St. Regis Resort [http://www.starwoodhotels.com/stregis , a Deepak Chopra branded residential spiritual retreat. All have their own specialized high end residential villas and condo projects.
The real estate has a restricted occupancy rate. It can be as little as nine bedrooms per 2.5 acres. This keeps the number of landowners down and encourages development of high-end living. La Punta Realty, for example, offers private beachfront home site lots priced from $600,000 - $7 million USD. Unique and luxurious beach villas range from 2 to 20 million USD.
Construction is in full swing, as Punta de Mita [http://puntademita-realestate.com ended 2005 with record closed sale figures of just under $160 million USD, 60% more 2004 sales (by comparison, total Puerto Vallarta Multiple Listing Service [http://mlsvallarta.com sales for the same 2005 period came to $70 million.)
Adjacent to Punta Mita, other luxury hotel groups like the Ritz, Banyan Tree, The Omni, Hilton, One and Only Resorts and other hope to compete with similar offerings.
Christie's Great Estates - La Punta Realty's flagship development, El Banco [http://www.elbancomexico.com will surely be among the most unique and exclusive luxury resorts in Mexico. Developed by former Yahoo Corp. CEO Tim Koogle , the vision is to exceed the quality and architectural significance of the Punta Mita Resort bringing grand colonial haciendas San Miguel de Allende to the seascapes and jungles of North Shore Puerto Vallarta.. The first phase of beachfront home sites sold at full asking price in the private reservation period. The second phase of luxury boutique hotel managed beach villas will be architecture as fine art by famous Mexican artisans Juan Munguia, Juan Pablo Stone and the star outfit from Guadalajara Elias & Elias.
La Punta Realty has the most complete and intimate knowledge of the diverse and expansive coastline of Nayarit and Jalisco. Please visit our booth to ask about the Mexico Land Catalog of beaches and coves best suited for residential, hotel resort, or home site lots. [http://www.mexicolandcatalog.com
The Future of Banderas Bay and beyond…
Mexico's push to stimulate tourism and attract private investors began to take shape in 1974 with the creation of the National Trust Fund for Tourism Development (Fonatur). Since its inception, Fonatur has been responsible for planning and developing five seaside destinations -- Cancun, Los Cabos, Ixtapa, Loreto and Huatulco -- that generate about 54% of Mexico's foreign tourism spending.
Former Mexican President Vicente Fox recently inaugurated the Nayarit Tourist Corridor, a coastal infrastructure mega-project north of Puerto Vallarta. This plan is financed by state, federal and private interests. It is part of a plan proposed in the early '90s for appropriate sustainable development of the region which has attracted investment capital, developers and hotel groups from all over the world.
The government hopes to keep the infrastructure growing to accommodate the increasing number of new homeowners. Services like electricity, water treatment, telecommunications, airports and highways are completed by a major hospital, schools, commercial centers, an aerodrome, a 150 slip marina and a marine park similar to that of Xcaret [http://www.xcaret.com . The idea is to dot the coastline with smaller, tasteful establishments, in the luxury boutique market.
The Mexican government has also changed some of the real estate laws. Now it is easier for foreigners to buy and develop property in Mexico. Many Americans have watched the values of their Mexican properties appreciate 10% a year the past six years.
Earning its reputation as a premier golfers' destination with Travel and Leisure honoring Punta Mita as third best golf resort in Mexico and Latin America. The area has seven spectacular golf courses, designed by some of the world's top architects, including Jack Nicklaus [http://www.nicklaus.com , Greg Norman [http://www.shark.com and Tom Weiskopf. Planned are 7 more golf courses around Puerto Vallarta Punta de Mita alone.
The goal now is to elevate the quality and quantity of the tourism product while diversifying the product in an effort to attract even more investment. At the same time, tourism officials want to focus on attracting sustainable development with rigorous environmental safeguards.
The Bay of Banderas has grown naturally, organically, privately, and currently attracts over 3-million tourists per year and has a population of about 325,000. According to FONATUR [http://www.fonatur.gob.mx the Mexican tourist development bank, and the Banderas tourism board, the number of tourists in the next 20 years will exceed 6 million per year and the population will more than double. In the South is a condominium explosion, primarily in Nuevo Vallarta, Marina Vallarta and along the hillsides of the Sierra Madres overlooking the town and the bay.
According to the Mexican government, with foreign investment in Mexico on track to hit $20 billion this year, up from $17.6 billion in 2005, the market has just become prolific in Mexico, with about 1.5 million Americans now owning property there. Values in some markets have tripled in five years -- far exceeding the rates of return you find in the United States.
The Bay of Banderas serves as the foreground for lush, tropical jungle, while the rugged Sierra Madre mountain range provides the backdrop. This is the vista that planners want to preserve. Luxury home buyers are gravitating toward ecologically sound and conservation-friendly communities in the North of the bay, only a short distance away from the sophisticated dining, galleries, shopping, and night life of Puerto Vallarta.
For additional information on La Punta Realty's listings, as well as all areas homes listed for sale on the Puerto Vallarta Listing Services, please visit their website at http://www.lapuntarealty.com, or contact Alexis Burwell at +52-329-291-6420
###