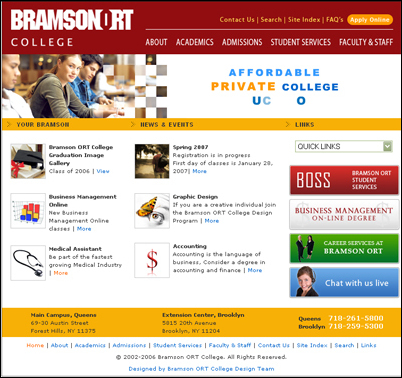 Forest Hills, NY (PRWEB) December 7, 2006
The Bureau of Labor Statistics has recently issued a report stating that the demand for medical assistants is expected to grow at an incredible rate along with the anticipated expansion of the health service industry. Bramson ORT College, one of the fastest growing New York City colleges, is creating new opportunities for students to fulfill the demand by introducing a new Medical Assistant Program.
The new program will be administered as an Associate Degree program with a curriculum designed to prepare graduates to be multi-skilled Medical Assistants. Students will work with and under the direction of physicians in clinical, administrative and other medical settings. Courses will include Human Anatomy and Physiology, Medical Office Administrative Procedures, Medical Terminology and Medical Internship.
In addition to traditional small classroom course settings at their two New York City campuses, Bramson ORT College offers distance learning through their online college degree program. Their Associate of Science Degree Program in Business Management includes a comprehensive, state accredited curriculum that can be completed through in-depth home study instruction. Online college degree program courses can be combined with other on-campus courses for students who need great flexibility as they pursue their diplomas.
"At Bramson ORT College, students find quality and dedication in our faculty, all of whom are professionals with extended experience in industry with broad expertise in their fields," says Dr. Ephraim Buhks, Director of Bramson ORT College. "They really benefit from the hands-on training through internships in important hospitals and research centers. The students particularly appreciate the quality of teaching, the small classes and the close and personalized attention from the faculty and staff."
As a fast growing institution among New York City colleges, many of the Liberal Arts courses at Bramson ORT College are also designed to foster a mutual understanding and relationship between workplace culture and American society in the New York City Metropolitan area.
An integral part of Bramson ORT College's mission is helping students and graduates make the connection between academia and real working environments. In addition to tailoring coursework around real-world applications, The Career Services Office provides superior opportunities for students and alumni in choosing and securing appropriate, rewarding and satisfying careers. The office also supports extensive candidate placement services to a wide range of corporate and not-for-profit employers.
To learn more about how Bramson ORT College and their online college degree program compares to other New York City colleges, please visit BramsonORT.edu.
About Bramson ORT College:
Based in New York City, Bramson ORT College is dedicated to providing each of its students with a college level technical, business or health services education. Upon successful completion of any program, a student can seek out and succeed in a challenging employment opportunity with an established or emerging company in business, technology or healthcare. Graduates excel with the skills and knowledge required for career advancement, as well as a lifelong interest in professional and humanistic learning into their programs of study.
###