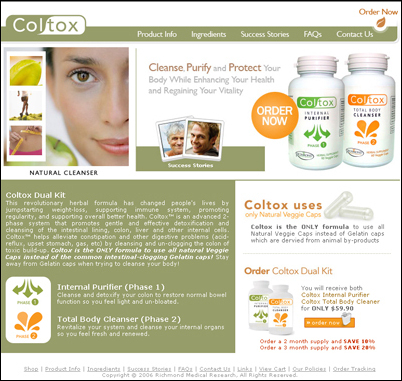 Richmond Medical Research has finally come to market with some revolutionary new products that have been used successfully for years in our medical treatment centers across the country
East Hanover, NJ (PRWEB) December 7, 2006
With more people throughout North America turning toward holistic medicine for a more proactive approach to better health, there has been a notable increase in the availability of herbal medicines to decrease toxicity in the body. Richmond Medical Research has just introduced Coltox™, the newest and most effective all-natural herbal formula engineered to promote improved health by cleansing and detoxifying the colon.
The Coltox™ Dual Action Formula uses a proprietary blend of herbs to flush out not only the colon, but also the liver, intestinal lining and other internal cells. The result is the promotion of a strengthened immune system, increased weight loss potential and better regularity.
"Richmond Medical Research has finally come to market with some revolutionary new products that have been used successfully for years in our medical treatment centers across the country," explains Max Leopold, VP of Marketing at Richmond Medical Research. "Our flagship product, Coltox™, has been over 98% successful in out-patient treatments and the demand has been so overwhelming that we were practically forced to offer it to the general public."
The results of the research into the Coltox™ Dual Action Formula has shown a reduction in the occurrence and progression of digestive problems such as constipation, acid reflux, upset stomach and gas pains. The studies have also shown that colon cleaners like Coltox™ are effective at jump-starting weight loss, because some patients carry as much as 25 pounds of undigested food and compacted fecal matter that has become trapped in the digestive tract. Coltox™ is also the only colon cleansing product that uses completely digestible veggie caps instead of gelatin caps that can cause additional intestinal clogging.
"Coltox™ is clearly the most advanced of the colon cleaners and body detoxification systems available to the public," says Gina Gaccione, VP of Product Development at Richmond Medical Research. "No other cleansing formula contains as many proven ingredients at efficacious dosages as does Coltox™. The research and testing that has been done in our treatment centers has allowed us to study results and re-formulate until we were able to perfect and produce the most advanced product on the market today. Coltox™ has been received with rave reviews and guaranteed results."
Richmond Medical Research staffs top doctors and internists in the field of natural medicine, and has funded numerous studies in their centers across the country. This ongoing research allows them to benefit from direct access to the very latest and most effective formulations to promote improved health.
To learn more about colon cleaners or to purchase Coltox™, the leading all-natural colon detox formula, please visit Coltox.com.
About Coltox™:
Coltox™ is a revolutionary new herbal formula designed to promote weight loss, better regularity, a strengthened immune system and overall better health by cleansing and detoxifying the colon. The proprietary blend in composed only of all-natural ingredients and has been shown to reduce digestive problems such as stomach pain, acid reflux, constipation and excess gas. Coltox™ is the safest and most natural way to regulate digestion, detoxify the body and improve overall health.
###