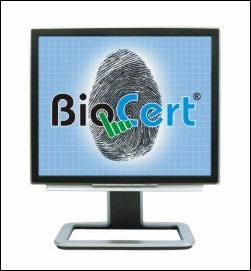 secure on the go computing.
Freeland, WA (PRWEB) December 7, 2006
As a global leader in direct to consumer biometric security solutions, is immediately lowering the price of its industry leading encrypted biometric secure flash drive product to $69.95. This product is available for immediate delivery world-wide through ASG at the Biometrics Direct Website, the ClipBio Pro Boutique Site and through its partnership with Amazon and Google.
The long anticipated weatherproof 2GB ClipBio Pro and the standard 1GB ClipBio Pro now include a 3 year warranty, PC, data, file, folder and email synchronization, a full PC Security Suite from Comodo to protect the host PC and a full suite of portable applications for "secure on the go computing."
"ASG introduced the BioCert® ClipBio™ Pro line of products in May of this year and has been consistently improving the product, bundled software and value proposition. With the release of the weatherproof BioCert® ClipBio™ 2GB, the new lower price on the ClipBio Pro 1GB, and the full suite of applications that we offer, the BioCert ClipBio Pro line offers industry leading performance, reliability and security for "road warriors". In the future we will build upon this core product line and increase the value proposition for our customers and the security of their portable data. It was important for us to make this announcement now to get the 1GB ClipBio flash drive into the consumers hands for this holiday season at the lower price point." States James Childers - CEO of ASG. "We are continuing to show our commitment to our soldiers through our Every Soldier Online Program by offering active-duty, retired military members and their families a 20% discount on the 1GB ClipBio. Our admiration for the men and women serving this country and our dedication to enhancing the security of their data will not change."
Already deployed with the US Military's CENTCOM (Central Command) in Iraq and numerous small, medium and large enterprises throughout the world, the ClipBio Pro is quickly becoming one of the must-have security items for portable data. Currently the ClipBio Pro and its portable suite is undergoing intense evaluation by several large government and private enterprises as part of their solutions for portable data to comply with US Government and industry regulations such as HIPAA, PCI-DSS, Sarbanes-Oxley and Gramm-Leach-Bliley.
The BioCert ClipBio Pro has received substantial press and was a featured tool in the home office of the "House of Innovations" by Popular Science and Sunset Magazine and most recently featured in a CNN Technology Show-And-Tell PodCast with tech reporter Ali Velshi on November 28th, 2006.
"The response to this product has been truly amazing. Once people realize the full value proposition of the ClipBio Pro and the accompanying software suite to protect the host PC and the portable data, it really is a simple buying decision. Now with the lower price of under $70, I can't imagine why every traveler with portable data wouldn't want to own one. This truly is a powerful solution to a very real world problem." Says Stephen Clayton, Director of Technology for ASG.
Developed in conjunction with Symwave® using their BioPrint® swipe fingerprint technology, the BioCert® ClipBio™ Pro 1GB Flash Drive uses advanced encryption methods and a secure biometric algorithm to authorize users access to their data on a secure partition on the ClipBio Pro.
Secured using AES 128 bit encryption, the secure partition of the BioCert® ClipBio™ Pro 1GB is only accessible when an authorized user swipes their fingerprint and is authenticated through the included Odyssey™ software.
The ClipBio Pro 1GB biometric and encrypted secure flash drive is available for immediate delivery and can be delivered by Christmas if ordered through the company by Monday December 22nd. Delivery of the new 2GB ClipBio will be during the first part of January.
ASG plans further enhancements to the BioCert CipBio Pro product line including new feature sets, new bundled software and other to be announced enhancements. ASG plans to make these announcements after the first of the new year.
About ASG
ASG (http://www.artemis-usa.com) is a closely held, private security firm specializing in fingerprint biometric and smart card security solutions. With offices in the US, EU, and Canada, ASG sells directly and through its global network of resellers and system integrators best of breed biometric and smart card security systems to small & medium business and local government agencies throughout the world.
ASG markets a range of computer, software and consumer products under its properly registered and owned trademark BioCert®, BioSaf® and iQBio™ through a network of domestic and international resellers and extensively on the Internet through their owned and operated websites.
# # #