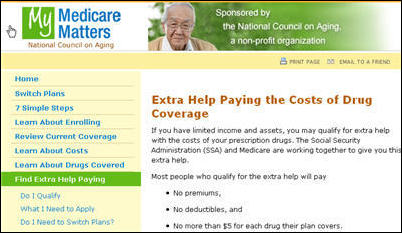 Washington, D.C. (PRWEB) December 6, 2006
My Medicare Matters, which is sponsored by the National Council on Aging (NCOA) and supported through a grant from AstraZeneca Pharmaceuticals LP, announced today its targeted community-based education and outreach initiatives in 2007 in support of Medicare Part-D, which will include a project designed to identify and pilot innovative strategies that can help find and reach low-income seniors who may be eligible for Medicare Extra Help and other prescription savings programs.
The announcement was made today at the U.S. Administration on Aging (AoA) Choices for Independence: A National Leadership Summit. Representatives of NCOA and AstraZeneca said the primary goal of this grant program is to find effective and cost-efficient ways to find, educate and enroll Medicare beneficiaries with limited incomes and resources into the Extra Help, available through the Medicare Prescription Drug Coverage, as well as other public and private prescription and health care assistance programs.
My Medicare Matters has allocated up to $900,000 to fund 5-10 grants and the project is expected to run through the end of 2007. Grant applications are available on http://www.MyMedicareMatters.org and proposals are due by Friday, January 5, 2007.
This press release was distributed through eMediawire by Human Resources Marketer (HR Marketer: http://www.HRmarketer.com) on behalf of the company listed above.
# # #