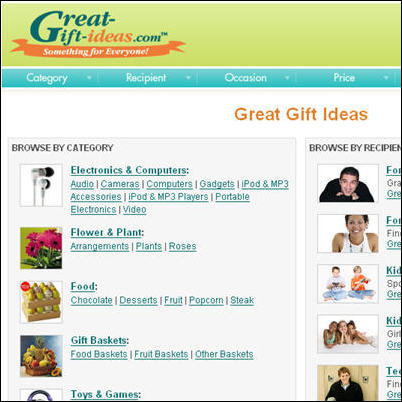 Austin, TX (PRWEB) December 8, 2006
Great-Gift-Ideas.com has both the latest gift ideas and time-honored classic Christmas gift ideas for everyone - from mom and dad to brother, sister and even baby. The site allows visitors to select a gift from thousands of gift options. There are over 60 different gift categories to choose from, including iPods and MP3 players, gift baskets, and kids toys. Great-Gift-Ideas.com features over 50 online stores and coupon codes from many different stores, including Brookstone, Cooking.com, Hickory Farms, and others. Coupon codes can save shoppers up to 15% or $25 off their order.
Recommendations for person, such as gift ideas for him and gift ideas for her, and occasion, such as Chanukah and Christmas, are the main focus of Great-Gift-Ideas.com. Along with viewing editor's picks for him, her, etc. visitors can also browse gift ideas by category, such as electronics gift ideas, food gift ideas, and home gift ideas, or by occasion, such as Chanukah, Christmas, New Year's, and baby shower, or by store, such as Babies R Us, Brookstone, and Sharper Image. Detailed information is provided about each and every gift on the site. The site provides an easy-to-navigate experience for online shoppers of all levels and will lead them to the perfect gift for a family member or friend. For the person who simply cannot be gifted, Great-Gift-Ideas.com offers gift certificate ideas for experiences, restaurants, and retail stores.
Because coming up with a gift ideas can be quite difficult in a society where everyone seems to already have everything, Great-Gift-Ideas.com strives to provide gift ideas that are truly unique. For him, visitors might choose an all-in-one GPS navigation system, for her, a digital camera keychain, for your teen, an iPod Nano, for a young daughter, a sticker art book or Disney collectible, and for a baby, a footprint kit. The possibilities are unique and endless.
"One of the best things about Great-Gift-Ideas.com," says site blogger Scott the Gadget Guru, "is the Great Gift Ideas Blog. Nowhere else can you find a truly unique gift idea of the day." The Great-Gift-Ideas.com blog is maintained by five bloggers with unique personalities and tastes. Each and every day, one of the five bloggers posts a featured gift idea. Because new ideas and products are presented all the time, visitors are encouraged to bookmark the blog or subscribe to the blog's RSS feed and check daily for new gift ideas year-round.
Great-Gift-Ideas.com is happy to launch just in time for the holiday shopping season. Visitors to the site are sure to be pleased with its multitude of gifts and extreme ease of use. With less than 3 weeks to get in online shopping that can be shipped in time for the holidays, the time has never been better to visit Great-Gift-Ideas.com and find the perfect gift.
About Great-Gift-Ideas.com:
Great-Gift-Ides.com was created by a group of five very different friends (Calvin, Eric, Mollie, Scott, and Shannon) who wanted to give and receive better gifts for holidays, birthdays, anniversaries, etc. They figured that by making educated editor's picks to lead their friends and family in the right direction, they could avoid ever receiving (or giving) another necktie or fruit cake. Great-Gift-Ideas.com has grown to include over 1,000 products from over 50 major online stores across the US.
###