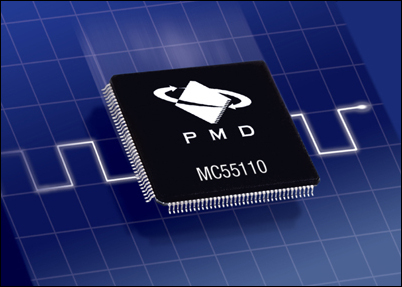 Lincoln, MA (PRWEB) December 9, 2006
Performance Motion Devices, Inc announces the Magellan 55110 single-axis, single-IC Motion Processor with automatic stall detection. This flexible device, designed specifically for step motor control, alerts the user when the motor has lost steps during motion. Losing steps (stall) typically occurs when the motor's motion has been obstructed, or a system failure has occurred.
The advanced functionality of the Magellan MC55110 allows the chip to actively monitor the targeted and actual position, and detect any number of motion errors that can result in a stall condition. Automatic stall detection operates continuously once it has been initialized by the user. To initiate stall detection, the host simply specifies the number of encoder counts per step.
The Magellan MC55110 Motion Processor is driven by a host microprocessor using an 8 or 16-bit parallel bus, CANbus 2.0B, or an asynchronous serial port. In addition to automatic stall detection, it provides advanced motion features such as programmable PID filter with velocity and acceleration feedforward, 32-bit position error, and 50 µSec loop time. Trace capabilities provide designers with on-the-fly data storage for analyzing system performance and performing maintenance and diagnostics.
Four selectable profile modes are supported, including S-curve, trapezoidal, velocity contouring, and electronic gearing. The MC55110 accepts input parameters such as position, velocity, and acceleration from the host and generates the corresponding trajectory. It accepts feedback from an incremental encoder at up to 10 megacounts per second, or from an absolute encoder or resolver at 160 megacounts per second.
Chuck Lewin, President and CEO of PMD, comments, "Many cost-sensitive applications benefit from the low cost of step motors, while still achieving high reliability by using an incremental encoder for position feedback. Stall detection is a feature that makes the most of a step motor used in this configuration. Rather than just checking motion after it is complete, stall detection can stop a motor the instant a problem is detected. This is a big improvement over older approaches."
The MC55110 is available now. Prices start at $24.00 in OEM quantities. For additional information, visit http://www.motion-control.pmdcorp.com
Performance Motion Devices Inc. (PMD) is a world leader in motion-control chips, cards, and modules. PMD provides a full range of high-performance single and multi-axis motion control products for DC brush, brushless DC, and step motors.
###