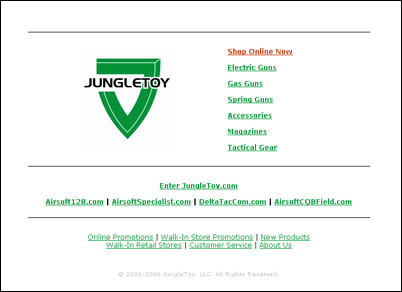 If you've ever dreamed of being Rambo or a SWAT officer, JungleToy can help make it happen
Riverside, CA (PRWEB) December 8, 2006
Paintball sports have some stiff competition coming from Airsoft automatic BB guns. The recreational firearm brand has been expanding its fan club by offering a huge range of replica firearms that project harmless plastic beads using an air propulsion system. Their popularity comes from the combination of safe but extremely accurate firing and the wide variety of well-known gun styles, which allow for battle games that are incredibly realistic. JungleToy.com, a leading retailer of Airsoft sniper rifles and other in-demand models, is offering holiday specials that company executive Alvin Hu hopes will only increase interest in the sport.
The exclusive discount applies to all of the Airsoft products, toy guns, movie props, tactical gear, training equipment and model kits available on JungleToy.com. Shoppers must enter the special coupon code "wowthatscool" before checkout to save 10% on orders of $100 or more.
Hu believes that this is the perfect time to entice newcomers to the hobby with price breaks on equipment that is already more affordable than most other recreational shooting gear.
"If you've ever dreamed of being Rambo or a SWAT officer, JungleToy can help make it happen," he says. "We provide a wide variety of products, knowledgeable staff and convenient locations throughout the US to provide quality products and services to all of our customers at discounted prices. JungleToy is a one-stop shop for everyone's Airsoft and military surplus needs."
Airsoft automatic BB guns were designed as a less utilitarian alternative to air propulsion hunting rifles. Instead of using power and projectiles intended to cause some degree of damage, the firearms were built for purely recreational purposes. The unique air propulsion system in Airsoft automatic BB guns provides incredible accuracy despite the very low weight of their plastic projectiles.
The large range of popular Airsoft sports typically entail the simulation of military or law enforcement combat training. With the proper safety and tactical gear, small or large groups can engage in safe military simulations, capture the flag games or reenactments of famous battles.
The expansion of Airsoft's line of replicas of famous pistols and rifles has attracted the interest of collectors, firearm safety trainers and movie producers seeking realistic props. The firearms all ship with either blaze orange markings on the barrel or with clear plastic bodies to distinguish from any genuine weapons, in accordance with federal laws.
For more information on Airsoft sports and holiday specials on Airsoft products and several other replica styles, please visit JungleToy.com.
About JungleToy:
JungleToy is a one-stop shop for all Airsoft toy weapons, tactical gear, realistic movie props and related equipment. Deep discounts and extensive product information is available online via their website at JungleToy.com. JungleToy also features several brick and mortar locations in California, Washington, Arizona, Texas, Kansas, Oklahoma and Missouri.
###