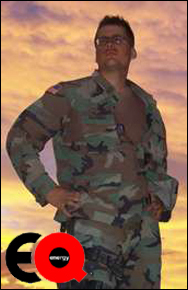 Our studies with caffeine have shown that at the right dose it's just as effective as some other stimulants that are more powerful, like amphetamines.
Bethesda, MD (PRWEB) December 12, 2006
Usually, energy is shipped out of the Middle East. EQ, Inc. (http://www.drinkeq.com) is changing things around.
As the U.S. nears its fourth year of troop deployment in Iraq, soldiers are finding the fight against fatigue to be a constant battle. The primary concern associated with fatigue during military operations is its effect on mental performance.
"You tend to process information more slowly," says Staff Sgt. Sean Byard. Byard has deployed to Afghanistan twice and now works at the Walter Reed Army Institute of Research. "People do make errors when they're sleepy, but primarily what they do is slow down. In time-critical tasks, like target acquisition, every second counts, every millisecond can count."
In an effort to reduce the ill effects of fatigue, the U.S. military has conducted several studies about the effects of caffeine which have led it to consider providing caffeine to troops to use as a temporary fix for fatigue in combat situations. Currently, only certain first-strike Special Forces have been issued caffeine for this purpose. For the rest of the military population, caffeine can be hard to come by, especially under circumstances when brewing a pot of coffee is not plausible. In remote locations there are often no other alternatives. That changed in August, when U.S. troops got their first taste of the portable EQ Energy Drink Tablets after Beyond Bookmarks (http://www.beyondbookmarks.com) began including them as an add-on to their military care packages.
"We've since received emails from troops in Afghanistan who had no access to energy drinks," says Chad Baker, EQ's COO. EQ responded by sending the caffeinated EQ Energy Drink Tablets to thousands of troops serving in Iraq and Afghanistan free of charge. The company is working with several service organizations to get more than 50,000 tablets to soldiers in harm's way.
A recent study conducted at the Walter Reed Army Institute concluded that caffeine, in the right amounts, improves cognitive abilities, marksmanship, physical performance and overall vigilance, while preventing fatigue-related injuries and deaths.
"Several EQ employees have family members serving in Iraq and Afghanistan," says Baker. "They're putting their lives on the line for us, and this is something we can do to help."
As a tablet, EQ Energy can go where many other energy drinks can't. A soldier can drop it in his canteen when he's ready to drink it, and a six-pack of EQ is about the size of a roll of quarters and doesn't add weight to a soldier already encumbered by combat-gear.
Dr. Tom Balkin, also of the Institute, has touted the benefits of caffeine to tired soldiers. "Our studies with caffeine have shown that at the right dose it's just as effective as some other stimulants that are more powerful, like amphetamines."
Each EQ tablet contains 80 mg of caffeine (the equivalent of a cup of coffee), and contains other vitamins and minerals such as Gingko Biloba, which has also been shown to increase mental performance. EQ does not contain sugar, so it doesn't leave soldiers with the 'crash' associated with most sugary drinks.
"Thanks so much for your support," one soldier recently wrote to EQ. "Anything to make us more effective and mission capable is a great help."
###