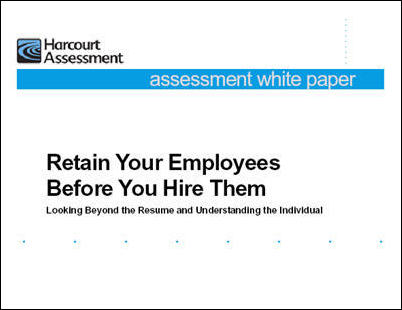 The most important step to retention begins before the hire
SAN ANTONIO, TX (PRWEB) December 11, 2006
A combination of assessment solutions that analyze work styles, abilities and skills is necessary to successfully achieve a good hire, according to a new white paper entitled Retain Your Employees Before You Hire Them. The white paper was released today by leading talent assessment provider Harcourt Assessment.
"The most important step to retention begins before the hire," explains Phillip Weiss, VP, Human Resources, for Harcourt Assessment. "A variety of assessment solutions are available to help employers tackle the problem of employee turnover head-on."
A thorough, well-conceived and objectively-qualified hiring process results in a better understanding of a candidate as an individual. The key combination is assessing a person's cognitive abilities, work style and skills. With this layered effort, the right candidates are identified at the start of the recruiting process, and recruiting misfires are significantly reduced. Personality assessments help ensure an employee's job satisfaction, and determine how well the individual matches an organization's values and culture.
Harcourt's talent assessment solutions are grouped for employers' convenience with solutions available to meet a host of needs, including general tests of skills and abilities, work styles and interests or specific occupational or industry needs. To sustain retention efforts, Harcourt also provides assessments for continued development in the areas of team building, personality and self-awareness.
Assessments help identify individuals with a strong passion for the company and the job - providing recruiters with the ability to quickly weed out those who may not be retainable.
"Personality and ability are complex qualities that cannot be adequately determined from an interview or by reading a resume. Just because someone is qualified on paper doesn't mean they will be ideal for the job," adds Judy Chartrand, Director, Talent Assessment. "Assessment provides employers with better information about candidates. With the technology and expertise available today, it makes good sense to incorporate assessments into the hiring strategy."
The report can be downloaded by visiting Harcourt Assessment. It includes case studies, survey findings and data on employers' turnover challenges and provides data on how personality and ability assessments can deliver a high-performance workforce.
For more information on Harcourt Assessment, visit http://www.AssessTalent.com.
About Harcourt Assessment
Based in San Antonio, Harcourt Assessment is a leading provider of high-quality assessment instruments and testing programs used by educators, psychologists, speech-language pathologists, occupational therapists, human resource professionals, admissions and credentialing professionals, and businesses. With 85 years of experience in the assessment field, Harcourt Assessment uses a combined approach of measuring an individual's work style and abilities to help their clients, including half of the Fortune 500, optimize their hiring process. The company is a unit of Harcourt Education, which is the global education brand of Reed Elsevier Group plc (NYSE: RUK and ENL). Reed Elsevier is a world-leading publisher and information provider operating in the science and medical, legal, education and business-to-business industry sectors.
This press release was distributed through eMediaWire by Human Resources Marketer (HR Marketer: http://www.HRmarketer.com) on behalf of the company listed above.
###