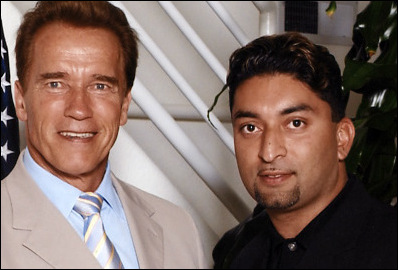 Sheeraz is the connection between Hollywood and Bollywood.
Beverly Hills, CA (PRWEB) December 11, 2006
During its bi-annual Global Mainstream Media Award ceremony at the University of Leicester in London, England, last week, the Triangle Media Group (TMG) honored Sheeraz Hasan by presenting him with the Best Business Achievement Award for his outstanding entrepreneurial leadership as Founder/CEO of http://www.Hollywood.tv, Hollywood's leading entertainment portal.
The Triangle Media Group's global awards was founded by Australian media tycoon and legal scholar David Flint. The TMG awards, which were launched in 2003, have been supported by some of the biggest Politicians in the world, including Tessa Jowell, UK Minister for Culture Media and Sport. Jowell said: "I was so interested to read about the Triangle Media Group Alliance for foreign artists and I am delighted to say, the excellence and quality of Britain's cultural and sporting activities ensure that our reputation for creativity and innovation is renowned worldwide."
Since its founding, the Triangle Media Group has recognized, honored and celebrated the achievements of the most outstanding South Asians in its annual awards, by highlighting the achievements of these top achievers to the global mainstream media, and recognizing them for their outstanding worldwide contributions. Haresh Sood, who is the Global Ambassador of the awards, made the presentations. Haresh Sood said 'It was a splendid evening which was very well received which showcased the crème de la crème of South Asian talent to a non South Asian audience in an academic environment,' Sood said. "TMG prides itself to be unlike any other awarding ceremonies and proud to announce that it is precisely this sort of evening that we need more of to get the quality of our artistes seen and heard about."
"Being recognized with the Best Achievement Award for Business, was a tremendous thrill, especially when I was being honored in my home country, England," Sheeraz said. "I am honored that I am being recognized as Founder of Hollywood.tv. We've built the bridge between Hollywood and Bollywood, the two biggest film industries in the world with Hollywood representing 3.6 billion worldwide fans and Bollywood representing 3.8 billion worldwide fans. In 2003, 2004, 2005 and 2006 I have received numerous government awards for building that bridge and also for representing Hollywood to billions of people around the world. What better way to end the year than to receive the Best Business Achievement Award from such a highly esteemed organization such as TMG."
Sheeraz's remarkable journey began in London in 1991, when at the age of 16 he dropped out of school to take over his family's struggling restaurant business. Renaming it the Tinseltown Cafe, he turned it into a 24-hour Hollywood-themed eatery, and before long, it was a thriving success. Then, with no experience, skills, or contacts in the entertainment business, he decided to move to Hollywood with only a small amount of money from his family to get him started. While making his prayers at the famed Hollywood sign, Sheeraz's chance encounter with Rowland Perkins, founder of Creative Artists' Agency, the biggest talent agency in the world, catapulted him into the Hollywood movie scene. Within weeks, he had his own TV show and was covering film premieres and interviewing the biggest celebrities on the red carpet, and today Tom Cruise calls Sheeraz "The American Dream" and The Most Beautiful women in the world Aishwarya Rai says "Sheeraz is the connection between Hollywood and Bollywood."
Avoiding gossip or celebrity scandal, Sheeraz focused on spreading a message of spirituality by asking the stars about their religious beliefs and spiritual lives and encouraging them to use their fame to make the world a better place. Within 18 months of his arrival in the United States, Fortune Magazine, the world's premier business magazine, devoted a four-page spread to Sheeraz, featuring him alongside the billionaire Google founders Larry Page and Sergey Brin and the richest man in the world, Microsoft founder Bill Gates. Sheeraz was given the "Hall of Fame" award at the 2004 Indian Telly Awards, the most prestigious television award show in India, for connecting Hollywood and Bollywood together. He was also named Hollywood Ambassador to the Middle East at the 2004 Arabian Music awards in Dubai, and the One Night Foundation named him their Humanitarian Communicator of the Year for his work in promoting their efforts to fight AIDS in India.
On July 4 of last year, during America's Independence Day, Sheeraz launched http://www.Hollywood.tv, the ultimate web domain, as Hollywood is a multi-billion dollar brand recognized all over the world in every language. Sheeraz calls this global empire, "The New Hollywood", where all the global stars are united in one destination.
Earlier this year, Sheeraz launched his personal autobiography, "Sheeraz: The Muslim American Dream", an emotional, spiritual and gripping love story that chronicles his rags to riches success story in America and his efforts to create a positive image for Muslims around the world.
The book recently received the highly esteemed "Best Autobiography" award at the 2006 Bollywood Awards, which were held in Trinidad before a live audience of 20,000 and millions of television viewers worldwide. The autobiography later earned Sheeraz the coveted Dr. Zakir Hussain Award, named after the former President of India, for "Outstanding Contribution to the Arts" at the 59th Anniversary of India's Independence Day in August of this year at the world renowned Walt Disney Concert Hall in Los Angeles. The event was attended by numerous prominent worldwide dignitaries and leaders. The award was presented to Sheeraz by United States Senator John Kerry. Moreover, California Governor Arnold Schwarzenegger compared his own rags to riches success story in America to Sheeraz's success story in America when he stated that they "Were both examples of the shining reality of the American Dream."
In 2007, Sheeraz, along with his business partner and co-founder of Hollywood.tv, Paresh A. Shah, have jointly founded and will launch http://www.Sports.tv. Both partners have a vision of bringing together the best in international sports by providing an online destination that unites all sports and athletes from every country around the globe. "The future of the Internet is television," Sheeraz explained. "Two of the most popular things in the world that people pretty much cannot live without are entertainment and sports. Our goal is to be the number one portal, with a 24-hour on-demand sports channel covering international sports to over one billion people around the world."
Top Silicon Valley analysts have stated that both http://www.Hollywood.tv and http://www.Sports.tv will become multi-Billion-dollar media companies. Since coming to America, Sheeraz's journey has brought him full circle, from reporting on the headlines, to making them. He has garnered scores of awards, graced the covers of the largest newspapers and magazines, has been featured on the biggest TV shows around the world, and made fortunes from his successful media ventures. Now Sheeraz is creating history by representing both Sports and Entertainment to over 1 Billion people around the world.
###