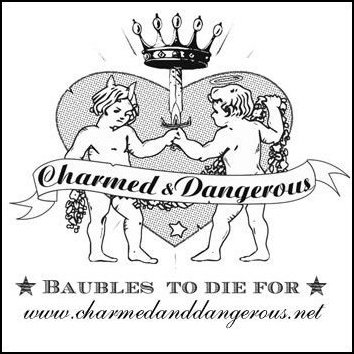 but it only makes this early success seem that much sweeter.
New York, NY (PRWEB) December 11, 2006
The thousands of shoppers that flock to the outdoor holiday market in New York City's Union square will find a new booth this year, "Charmed & Dangerous". Independent jewelry designer Sally Daner debuts her collection of handmade vintage-style charm necklaces and earrings at the busy holiday fair, as well as on a new website http://www.charmedanddangerous.net
The line is a unique combination of sweet and edgy as the company name and slogan ("Baubles to Die For") would imply. Each design in the collection tells a little story with its unlikely grouping of charms and tongue-in-cheek moniker. For example, a hummingbird paired with skull and crossbones becomes "Bird Flew", an antique revolver in combination with a heart makes up "Gun Shy". Gold-filled chain and semi-precious stones add to the high-end look of the line while still maintaining its affordability. The majority of the products are from $25-$40, the ideal gift-giving price range. "We wanted people to come to our booth or our website and be able to buy a necklace or pair of earrings for every woman on their holiday list," says the designer.
And so far the response has been overwhelming. Nearly selling out the first full Saturday the market was open, Daner admits that maintaining an inventory level has been a challenge given that each piece is completely handmade here in the USA. "You just don't find this kind of quality and attention to detail at large retail outlets. It's something that savvy shoppers seek out, and we're happy to give it to them."
For Daner, the path to jewelry-making has been full of detours. A long time artist, she began taking jewelry classes almost a decade ago but got sidetracked when she made her husband a sterling silver hook-shaped bookmark for Christmas and a business was born. After receiving numerous requests from family and friends to create similar bookmarks, Sally and her husband Michael started the gift bookmark company Hookmarks, which has since spun off into creating custom logo bookmarks for hundreds of organizations including Microsoft, NPR, the Treasury Department, the White House and Fidelity Investments. With the bookmark business humming along nicely, Sally decided it was finally time to return to her first love, jewelry making. "It's been a long time coming," she says, "but it only makes this early success seem that much sweeter."
Charmed & Dangerous can be found at the Union Square Holiday Market from November 24th to December 24th, Mon-Fri, 11am-8pm; Sat, 10am-8pm; Sun, 11am-7pm. Market closes at 4pm on Christmas Eve.
The website http://www.charmedanddangerous.net is open and taking orders for the 2006 holiday season. Visitors who sign the mailing list will be entered for a chance to win free products in monthly prize drawings.
More information on Hookmarks can be found at http://www.hookmarks.com.
For media inquiries please contact:
Ariana Falerni
Charmed & Dangerous
Tel: (646) 246-4216
###