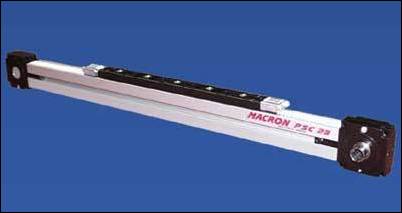 As a testament to the quality and longevity of our actuators, we made the decision to guarantee each unit for life
HORSHAM, Pa (PRWEB) December 15, 2006
Macron Dynamics Inc., a manufacturer of linear actuators, linear motion components, and custom mechanical motion systems, today, announced that beginning January 1, 2007, all Macron belt driven linear actuators will carry a lifetime warranty against defective material and workmanship. The announcement, which comes on the eve of the 20th anniversary of the company's founding, is unprecedented in the automation industry.
"As a testament to the quality and longevity of our actuators, we made the decision to guarantee each unit for life," said Joe Baird, national sales manager for Macron. "We believe that Macron is the only major manufacturer of belt driven linear actuators currently offering a lifetime warranty."
The warranty stipulates that the actuator must be used in an automation system engineered or approved by Macron. In addition, deterioration or wear caused by abuse, maintenance neglect, severe eccentric loading, overloading, chemical or abrasive action, or excessive heat, shall not constitute defects. The warranty will not cover actuator units sold prior to January 1, 2007.
"When operated, maintained, and serviced properly, our belt driven linear actuators will perform to spec over and over again, usually outlasting the useful life of the system the actuator is designed for," said Baird. "If one of our belt driven actuators fails, we will replace the unit free of charge."
Baird added that replacement components for belt driven actuators make up a very small portion of Macron's business, a fact that reinforces Macron's claim on the durability of its' actuators.
Offering motion solutions since 1987, the longevity and quality of Macron's belt driven actuators can be largely attributed to the company's ability to accurately engineer a full motion system and provide the proper actuator for an application.
"Our belt driven actuators are manufactured to the highest standards, however, it is Macron's ability to engineer the correct unit for each unique application that allows us to guarantee our linear actuators will perform to the designed specifications for life," said Baird.
Macron Dynamics offers customizable linear motion products that offer up to 500 feet of travel length, support up to 10,000 pounds, and operate at speeds up to 600 inches per second. For additional information on Macron's lifetime warranty on belt driven linear actuators, look for the lifetime warranty seal at http://www.macrondynamics.com or call Macron Dynamics at 215-443-8888.
About Macron Dynamics, Inc.
Macron Dynamics is a leader in the design and manufacture of linear motion control products and systems creatively engineered to improve productivity and reduce costs in commercial and industrial applications. Macron's products include modular belt driven linear actuators, linear drives, rail actuators, robotic positioners, gantries, dumbwaiters, screw driven positioning tables, roller conveyors, and extruded aluminum profiles. In addition, Macron specializes in the engineering of custom linear motion systems from basic assemblies to complete robotic automation units.
###