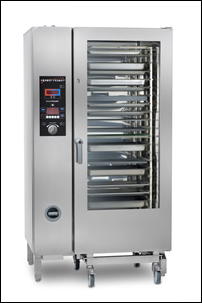 At Henny Penny, we pride ourselves on providing the highest quality products. That's why every added feature has to have a practical application in terms of increased productivity and ease of use. I think the new SmartCombi™ is a perfect example of our commitment to making sure the technology we implement serves our customers' needs
Eaton, OH (PRWEB) December 12, 2006
On December 1st, foodservice equipment manufacturer Henny Penny officially introduced their next generation SmartCombi™ line of combi-ovens. Promising better food quality and increased efficiency, the SmartCombi™ incorporates several significant advances over earlier models. Perhaps the most impressive upgrade is the integration of Henny Penny's Advanced Steam Technology.™
Advanced Steam Technology™ utilizes an integrated heat exchanger to create large amounts of steam as fast as traditional boiler technology. But by bridging the gap between the poor steam generation inherent in boilerless systems and the de-liming problems associated with boiler combis, Advanced Steam Technology™ gives SmartCombi™ users greater control of relative moisture and cooking climate. Other key advances to the new SmartCombi™ models include the WaveClean™ self-cleaning system, auto-reverse fans to circulate heat more evenly and optional Crosswise Plus cooking pans that can increase overall capacity by more than 50%.
"At Henny Penny, we pride ourselves on providing the highest quality products. That's why every added feature has to have a practical application in terms of increased productivity and ease of use. I think the new SmartCombi™ is a perfect example of our commitment to making sure the technology we implement serves our customers' needs," says Rob Connelly, Henny Penny's Vice President of Marketing.
As the latest addition to Henny Penny's extensive line of cooking, holding and merchandising equipment, the SmartCombi™ puts the company at the forefront of combi-cooking technology. The introduction of Advanced Steam Technology not only sets the SmartCombi™ apart from competitors, but continues a 50-year tradition of innovation that began when Henny Penny patented the first commercial pressure fryer in 1957. To learn more about the Henny Penny SmartCombi™ system visit http://www.hennypenny.com.
Henny Penny Corporation, headquartered in Eaton, Ohio USA, offers a wide range of high quality foodservice equipment designed for easier operation, greater flexibility and lower operating costs. Product lines include pressure and open fryers, combis, rotisseries, holding cabinets, display merchandisers, and blast chiller/freezers. These products and complete start-up, service, training and technical support, are available through Henny Penny's exclusive worldwide distributor network.
# # #