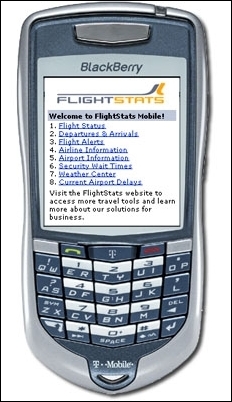 With airline performance already lagging behind last year and a further decline predicted during December, travelers need every tool they can get to help them get where they want to be for the holidays
Portland, OR (PRWEB) December 12, 2006
FlightStats, the world's leading resource for real-time, historical and predictive flight information today released FlightStats Mobile, a powerful resource for travelers and those picking up travelers during the busy holiday season. FlightStats Mobile is free to use and provides access to flight status, airport departures and arrivals, airline contact information including phone numbers for reservations, baggage, frequent flyer and mobile links and airport information including current weather, weather forecasts, airport delays and security wait times.
FlightStats Mobile, like the flightstats.com web site, is uniquely designed with the consumer in mind. FlightStats is the only system that tracks virtually every flight around the world in real-time, aggregating the largest amount of gate and baggage claim information, and matching all marketed and operated flights. While some other flight status systems provide interesting domestic flight information for pilots and aviation enthusiasts, FlightStats delivers the global information that regular people need to make travel more convenient, and successful.
"With airline performance already lagging behind last year and a further decline predicted during December, travelers need every tool they can get to help them get where they want to be for the holidays" says Jeff Kennedy, CEO of Conducive Technology, the producer of FlightStats. "With more and more people carrying mobile devices with web browsers, this data can save fliers and those meeting them a huge amount of time and frustration." FlightStats mobile is available on any smart phone or PDA equipped with a web browser and can be accessed at http://mobile.flightstats.com. For more information, you can visit http://www.flightstats.com.
About FlightStats
FlightStats is a unique suite of travel tools and Web Services that deliver real-time and historical flight information to lower travel-related costs and improve the travel experience. FlightStats offers unique products to both B2B and consumer audiences, including flight monitoring and notifications, consumer & mobile applications, powerful flight history analysis tools, flight information display (FIDS) and more. At the core of every FlightStats product is real-time and/or historical global flight performance information that is comprehensive, timely and objective. FlightStats has offices in the US and the Netherlands.
Trademarks mentioned in this release are the intellectual property of their respective owners.
© 2006 Conducive Technology Corp. All rights reserved.
###