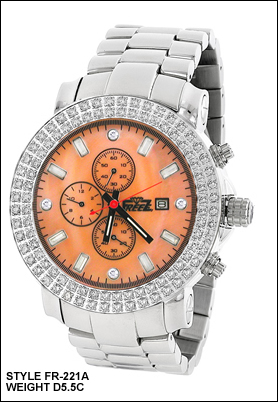 New York, NY (PRWEB) December 12, 2006
Freeze Jewelry just added over 100 new styles to their arsenal of hot mens diamond watches. If you're looking for "Big Bling" and quality craftsmanship this holiday season look no further. The Freeze watch is always on the cutting edge of fashion. No one can miss the Freeze Watch. They're big, sporty, and covered in fine diamonds. Freeze Watches are especially known for their custom look, feel and quality.
Freeze Watches can now be found on the wrists of some very famous people. The list of big names keeps on getting bigger. Word spread fast among the Miami Dolphins after Jason Allen got his hands on one and now a half dozen players joined in and enjoy the, "Big Bling" of Freeze Jewelry. Pleasure of Pretty Ricky, Jody Breeze of Boyz N Da Hood, Ed Lover, Rickie Weeks 2nd basemen of the Brewers, and many, many more have got their Freeze on.
Original in design and superior in style, Freeze Watches has sold tens of thousands of watches during its first two years of production. Our artisans have over 25 years of watch making experience. Our horologists are constantly challenged to stay in front of the latest fashion trends.
A watch for all seasons is what Freeze had in mind when they created these sporty, yet contemporary pieces. Our watchmakers use only the most durable parts and their quartz movement shows it. Each timepiece is delivered in a beautiful mahogany box and is accompanied with a one year warranty.
Freeze Watches set out to create a watch for the customers who feel as much at home in a boardroom as in a hot new nightclub. It's the S-Class of watches, useful at the office or for a night on the town.
This watch fills an important consumer need. The Freeze customer wants an elegant watch that he or she will not have to take off when they leave the office.
And like the needs of those with varied interests and pursuits this watch will no doubt please, Freeze watches come in a range of colors and styles. From the "BIG BLING" of our Freeze Diamond 10.25ctw Diamond Stainless Steel timepiece with a Mother of Pearl Chronograph to our more subtle Freeze .40ctw Diamond rectangular watch. Most of our watches are available with a Diamond bezel. For those who want it all, a few limited pieces come with a choice of different Diamond bezels for every mood and style preference.
The Freeze Watches line was launched in New York City in 2004 and quickly gained fame as a watch on the Diamonds cutting edge. Freeze Jewelry also offers an extensive selection of engagement, wedding, and women's jewelry. Please do not hesitate to pick up the phone and call 888-248-1262 to be connected to a knowledgeable local retailer or check us out on the web at http://www.freezejewelry.com.
###