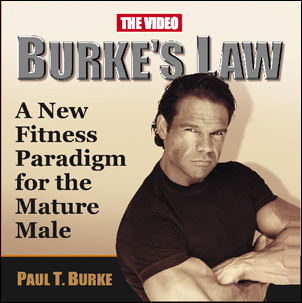 Marlboro, NJ (PRWEB) December 13, 2006
By now, most of you have heard of the groundbreaking fitness book, Burke's Law, A New Fitness Paradigm for the Mature Male; and, its author, Paul T. Burke. Burke, a former champion bodybuilder and arm-wrestler, who now writes for Iron Man Magazine, and is authoring another book, titled, "Weight Training for Teenagers" was getting a lot of e-mails and letters about the book, "Burke's Law." "Some of the letters clearly wanted to see my way of training in action," Burke says, "and that is what I set out to do."
Burke decided to make this great action-packed Training DVD, which is visually complimentary to his popular first book. "I made it," Burke says, "so that people could watch, listen and learn my truly dynamic and unique way of weight training."
Today, Burke has just released his Training DVD. Now, for the first time, you can watch Burke train in his "Burke's Law," gut busting, but natural way, while listening to his eloquent and wise speaking voice that tells each viewer what Burke is doing and why he is doing it as each person views the DVD.
"There is no other Training DVD or Video out there like it," Burke says to us. "Like the book and similar to how I think, the DVD is unique in a couple of ways," Burke continues.
"With my background in movies and TV," says the thickly muscled author, "I figured it it was a natural step to go from the book to this Training DVD because I knew I could speak to the camera very well and therefore could make it about action and teaching; Burke confides, "in fact, the more ways or methods that one can reach one's audience with, the better."
The DVD is very educational, but, more than anything, you will be astonished at how fast, hard and heavy this 51 year old man trains. He inspires, he teaches, he tells you some history of weight training; and, he even makes you laugh a bit in this extensive and impressive Training DVD.
One would never know by watching Burke train on the DVD that he has had Multiple Sclerosis for over 10 years; while also nursing a serious assessory nerve rupture that occurred some six years ago, and it nearly killed him. Now this injury and the MS constantly plague him, but he goes after the moon as if he owned it. He really is truly one of the most unique men around, so says almost anyone who meets him and gets to know him.
"I really have only just begun to get my muscles back from that injury," Burke says, "but life really is about challenges and I am in a unique position that way, so as to help others and to spread my knowledge and wisdom as far as is possible." "My competing days may be over, but I know people will get a lot out of this DVD, just as I know people can get so much from my book also," Burke concludes."I truly believe, that, like the book of the same name, this "Burke's Law" training DVD will take each viewer to another place in their training enthusiasm and effect their own training experience," Burke says." "If I can train as I do, at this age, and with all of the various serious injuries and illnesses that I live with; then anyone should be able to do it," Burke says with conviction. "I have learned a lot in my 40 years of training with weights; and, I believe that I am a very good teacher of the wisdom that I have acquired in all those years of hard training," Burke says with a flex and a smile that lights up the room. "Paul Burke," as Steve Cardillo, National Powerlifting Champion and inventor of the Reebok "Pump" Weight Training Belt, says of Burke, "Paul is the most talented athlete I have ever known and that starts with Roger CLemens and ends with Michael Jordan." That is saying a lot about this maverick Bodybuilder and author who can still flex both his braun and his brain.
You can buy the new "Burke's Law" Training DVD at http://www.amazon.com or http://www.paulburkefitness.com . Either way it is $21.95 plus shipping.
You can also purchase his breakthrough book, "Burke's Law," A New Fitness Paradigm for the Mature Male, from http://www.traford.com/05-1850 or http://www.amazom.com or http://www.barnes&noble.com and all other major online bookstores.
# # #