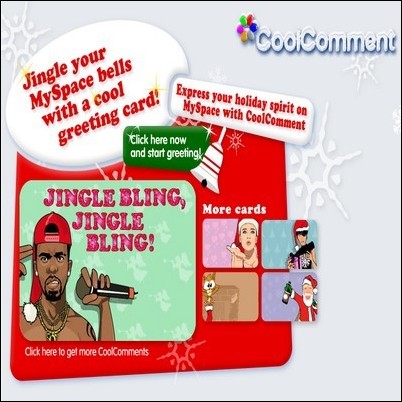 Wilmington, DE (PRWEB) December 12, 2006
EglooMedia has released a series of Christmas greeting cards for use with the Cool Comment Editor widget.
The CoolComment Editor, successfully launched in October, is a desktop application designed especially for creating original decorated comments in social networking profiles as well as Web pages. Both users and specialists have received and accepted the CoolComment Editor greatly, and its use is growing consistently. The user generated comments produced by the widget now appear over thousands of personal profiles, comments, blogs and messages on social networking sites such as MySpace, Friendster, Xanga and Hi5.
The Christmas season sees the next step in creating original user generated content by using a pre-made themed greeting card series which accompany the comments created by the CoolComment Editor. The CoolComment Editor Web site now offers a series of special and colorful greeting cards, featuring one of a kind fresh designs for Christmas. Users can add the text generated by the CoolComment Editor to the greeting cards and once again create an original way to express themselves on the web and on their social networking profiles.
By combining the ability of the CoolComment Editor to create unique graphic content and the exclusively designed greeting cards, users can enjoy a broader experience of designing their own special content and sharing it with their friends and loved ones.
About EglooMedia
EglooMedia is a leading mobile content company active in the US. The company works with major US operators and offers mobile content consumer services via the internet. EglooMedia has developed a variety of innovative new media content application, which are used in social networking sites, blogs and other internet and cellular portals. In the company's constant striving to develop and expand, EglooMedia is always moving forward to explore other means to use new media to supply our customers with the best user experience ever.
Contact Information:
Lee de-Beer
Lee [at] egloomedia.com
###