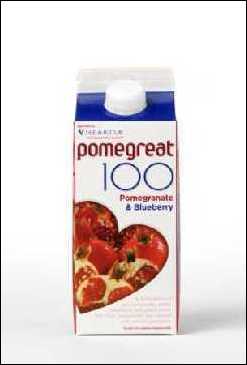 London, United Kingdom (PRWEB) December 13, 2006
A delicious new super juice combination of pomegranate and blueberry juice has launched in Sainsburys. Pomegreat 100 & blueberry is a mouth-watering new fresh tasting pomegranate juice blend. Totally free from artificial colours, sweeteners and flavourings, it is approved by leading cholesterol charity Heart-UK.
100% delicious, 100% healthy and made from 100% juice, Pomegreat 100 & blueberry juice is the ultimate super juice combination. Every carton of Pomegreat 100 & blueberry contains the healthy goodness of 10 pressed pomegranates, making it a fantastic source of antioxidants which naturally defend and protect your body against free radicals.
100% delicious
Pomegreat 100 & blueberry juice combines the exotic flavour of pomegranates and blueberries to create a perfectly balanced and naturally sweet taste. Only the finest quality pomegranates, from the Maharashtra region in India go into Pomegreat 100. Each carton is packed with the juice of 10 pomegranates and expertly blended with succulent blueberries to create a fruit juice that is 100% smooth and flavourful. It's simply delicious!
100% healthy
The pomegranate fruit is steeped in history and symbolism and has been believed throughout the ages to have mystical healing powers. Now scientific research has supported the myths surrounding the pomegranate by unveiling the healthy benefits of the fruit which has elevated the pomegranate to superfood status.
Blueberries may be small but they pack a powerful punch. They are a fantastic source of vitamin C, fibre and are also brimming with antioxidants. Anthocyanin -the pigment that makes the blueberries blue, and an antioxidant, is thought to be responsible for the extraordinary health benefits of the blueberry.
Both pomegranates and blueberries have been championed by health advocates for their heart friendly health benefits. Pomegranates are bursting with powerful heart disease fighting antioxidants called flavonoids. These natural plant chemicals are believed to be very effective at helping to maintain a healthy heart. The latest studies show that pomegranate juice has higher antioxidant content than green tea or even red wine.
With a retail price of £3.29, Pomegreat 100 & blueberry is the latest addition to the hugely successful Pomegreat range. For more information on Pomegreat or a list of stockists visit http://www.pomegreat.com
For samples or further imagery or information please contact Olivia Wray +44(0)20 7554 4472.
###