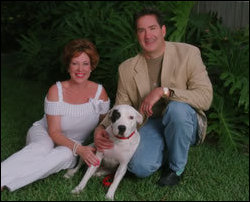 Our goal as a brokerage is to offer our customers more value and service than they can get anywhere else throughout their entire relationship with us, and that includes providing them the best information possible so that they can make smart decisions concerning one of their most intimate and important investments
South Padre Island, TX (PRWEB) December 14, 2006
The marriage of successful software entrepreneur Michael Stuart and Texas real estate mogul Alice Donahue has produced more than romance as they are taking real estate technology and service to new levels.
"The Texas Coast is one of the best markets for real estate in the country right now and it's only fitting that we have released to our customers the best technology to showcase that," says Michael Stuart.
"Our goal as a brokerage is to offer our customers more value and service than they can get anywhere else throughout their entire relationship with us, and that includes providing them the best information possible so that they can make smart decisions concerning one of their most intimate and important investments," says Alice Donahue Stuart.
The solution they have given-birth-to sets many firsts including:
1. A regional view of the real estate market that combines the property listings from all the coastal multiple listing services.
2. Comparative market analysis sales statistics for each area and between the areas.
3. An interactive on-line community where users can participate by contributing content, and by voting and making comments on the property listings, new construction projects and local real estate news.
4. State-of-the art technical features that make finding the right property as-easy-as-it-gets, according to the testimony from many of their users.
The real winners are: better informed consumers who save time and money, real estate developers who gain increased exposure and the local economies of the Texas Gulf Coast region.
A solution such as this would be technically and financially unfeasible for the typical real estate brokerage, but is available right now because of the power of true love!
Mike Stuart's experience in the technology industry is quite extensive. During his career, he has had the good fortune of serving both as a designer of complex enterprise applications and as a corporate executive. In his previous life, Mike was founder, CEO, and Chairman of the Board of AssetWorks Inc., now a division of a fortune 500 company and the industry leader in facility management solutions. Previous customers included many of the fortune 500, over 30 major universities, NASA, and the United States Military. Mike now enjoys living on South Padre Island and helping make Real Estate companies serve their customers better through the use of technology.
Alice Donahue Stuart is a licensed Real Estate Broker in the State of Texas and was born and raised in the valley with the exception of an extended time she lived in Panama during her childhood. Spanish became a second language for her at an early age. After college at the University of Texas, she went into the hotel industry. It was at that time she got her real estate license and began her career in real estate. In 1995, she opened her own office known now as "Alice Donahue Real Estate" located in the Radisson Resort. Alice strives to serve the community in many ways. A professional impression is important to her. She dedicates herself to finding the right property for her clients and for providing service after the sale.
Mike and Alice can be reached at 800-716-6861.
# # #