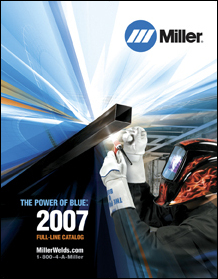 Appleton, WI (PRWEB) December 13, 2006
For information on the newest welding and plasma cutting equipment from Miller Electric Mfg. Co., request your free copy of the Miller 2007 Full-Line Catalog, which is now available.
The full-color, 88-page catalog provides specifications on Miller MIG welders, TIG welders, Stick welders, plasma cutters, welding generators, welding helmets, safety gear and more. The catalog also provides helpful product selection charts, and it describes the additional benefits available through Miller's online welding communities, which are free to join.
The Miller 2007 Full-Line Catalog is available through local welding distributors or by making a request through http://www.MillerWelds.com, calling 1-800-4-A-MILLER or by writing to Miller Electric Mfg. Co., P.O. Box 100, Lithonia, GA 30058.
With headquarters in Appleton, Wis., Miller Electric Mfg. Co. is a leading worldwide manufacturer of Miller brand arc welding equipment and related systems for metalworking, construction, maintenance and other applications. Miller Electric is a wholly owned subsidiary of Illinois Tool Works Inc. (ITW), Glenview, Ill. ITW is a diversified multinational manufacturer of highly engineered components, assemblies and systems.
Editorial Contact:
John Dymale
Insight Marketing
Office: (262) 240-9790
Mobile: (262) 689-9445
johnd @ imipr.com