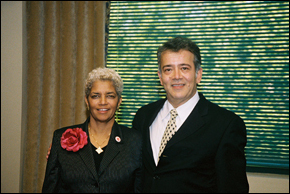 We should never take our success for granted
Atlanta, GA (PRWEB) December 14, 2006
Atlanta Mayor Shirley Franklin accepted a $100,000 donation on behalf of the Community Foundation of Greater Atlanta toward the King Papers from local engineering firm, United Consulting. The check was presented by United Consulting CEO, Reza Abree, during the Mayor's visit to the firm's headquarters in Norcross. The Mayor was invited to visit during an employee luncheon so that all the firm's employees could express their support for the Mayor's efforts to keep the official papers of Martin Luther King Jr. in his hometown.
"We recognize the significance of keeping those papers here in Atlanta," said Abree at the luncheon. "We're happy to do what we can to help the Mayor in this endeavor."
Reza Abree is known as a generous philanthropist who believes in giving back. "We should never take our success for granted," said Abree. His partner and firm co-founder, Donald E. Hill, PE, agrees, "We're not one of the big boys. We're just 140 people doing what is right. Furthermore, we believe it's our responsibility to do what we can to help keep Atlanta a vital pro-business city."
United Consulting was founded by Abree, Hill, and two other partners, Scott Smelter and Chris Roberds, who continue to lead the firm today. The firm specializes in geotechnical engineering, geophysical engineering, environmental services, construction materials testing, and stormwater management. United Consulting serves the Southeast with 9 offices in 7 states. The firm's employees have contributed thousands of hours and dollars to numerous charitable initiatives including helping tsunami and hurricane victims.
# # #