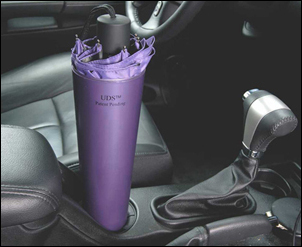 Just what am I going to get for (insert name)? They have everything!
Pittsburgh, PA (PRWEB) December 15, 2006
The holidays always beg the question, "Just what am I going to get for (insert name)? They have everything!" Why not try visiting http://www.intromarkstore.com? This online store has a variety of wacky, original and useful gift ideas for anyone to purchase this holiday season.
This year, Intromark Store is featuring many products that will come in handy when trying to find that perfect gift. The UDS® -- Umbrella Draining Solution -- a metallic cup with a self-contained drain, provides a place for users to stash their wet umbrellas. Great for those on the go, the UDS® fits neatly inside a vehicle cup holder or a commuter's bag. After use, the umbrella fits into the UDS® cup and prevents water from scattering about. The UDS® is available in a variety of colors and includes a matching high quality umbrella.
Also, for the chef on everyone's list, there's the Snap Jack™. Ideal for parents with small children, Snap Jack™ cuts pancakes into eight equal pie-shaped pieces. It makes convenient portions and eliminates waste and mess. Safe for use by both parents and children, Snap Jack™ makes a thoughtful holiday gift.
Don't forget to add the Flush Brush™ to that holiday list. This electric cleaning accessory thoroughly scrubs toilet bowls with virtually no effort from the user. This one-of-a-kind cleaning device works by simply pushing a button. The brush automatically spins, making it much easier to clean a toilet bowl efficiently and easily. Flush Brush™ is drip-free, and comes with its own handsome wall-mountable holder.
Little girls can be hard to buy for. They like toys, clothes and all kinds of "girly" things. Why not get her something she can use this year? The Baby BEC is a doll that stores small accessories such as rings, curlers, cosmetics and jewelry, both inside and outside the doll. Baby BEC is not only a fun companion for girls, but it also teaches organizational skills at an early age.
Stockings can be hard to stuff, and Intromark Store has the solution to that problem, too. The Unique Image™ Christmas Camera is a new disposable camera that frames images with a Christmas theme onto every photo. Every camera features 10 different backgrounds, ranging from Santa Claus to snowmen to Christmas tree ornament backgrounds. The Unique Image™ Christmas Camera is loaded with 24 exposure, 35-mm color film, and is the perfect way to capture those cute family holiday pictures.
Another great stocking stuffer is the PlaquePro™, a unique toothbrush that allows an individual to brush their teeth easily and creates benefits that lead to better dental hygiene. It simultaneously brushes the upper and lower sets of teeth, and the ergonomic design encourages users to follow the dentist's recommended up and down motion when brushing. The toothbrush can also reach behind molars, thereby enabling the toothbrush to brush more efficiently.
These products are just a sampling of what's available at Intromark Store, so get out that list and check it twice. A complete list of products can be found by visiting the website at http://www.intromarkstore.com. Products are sorted by category to help easily find the products listed above.
Intromark Incorporated is a new-product licensing and marketing firm, and can also offer companies access to an ongoing source of patented and unpatented inventions matched to specific areas of interest. For more information about Intromark, visit http://www.intromarkstore.com or call 1-800-851-6030.
# # #