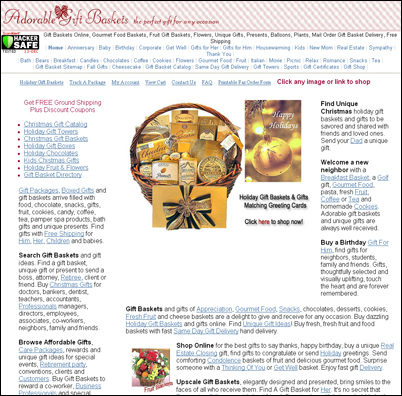 Happiness is not so much in having as sharing. We make a living by what we get; we make a life by what we give.
Foley, AL (PRWEB) December 14, 2006
For decades, people across the United States have showered attention upon their loved ones in the armed forces with mementos from home.
One company, Adorable Gift Baskets, which makes unique gift baskets to mark all of life's momentous events, is doing its part to come to the aid of soldiers' families. The online retailer is making available a number of customizable military care packages designed especially for those serving their country abroad.
According to the U.S. Department of Defense, some 1.4 million U.S. troops are stationed throughout the world -- including more than 140,000 troops deployed in Iraq and hundreds of thousands more in Afghanistan, North Korea, Germany and elsewhere. This massive deployment has made traditional military care packages more popular than ever. However, many harried husbands, wives, parents and other loved ones left behind are short on the time they need to brainstorm and gather the components for unique gift baskets.
That's where Adorable Gift Baskets can become a priceless resource. Through the company's online store, families can get gift basket ideas and personalize gift basket arrangements for each recipient and his or her situation.
Owner B.L. Barbour sums up his company's mission this way: "Happiness is not so much in having as sharing. We make a living by what we get; we make a life by what we give."
In addition to its military care packages, Adorable Gift Baskets offers other custom gift baskets, such as get well gift baskets, baby gift baskets, wedding gift baskets, birthday gift baskets and, of course, new holiday gift baskets for Christmas 2006.
The company's custom gift baskets range from gift baskets for women to gourmet gift baskets for the gourmand to get well gift baskets for those on the mend to a coffee gift basket and corporate food gifts for coworkers and bosses.
Barbour is proud of the company's commitment to customer service. Among Adorable Gift Baskets' distinct offerings are a secure, hacker-free Web site for easy ordering and, less common, free ground shipping on orders.
"We want you to know that we truly appreciate you and work very hard to process orders as quickly as possible," Barbour said. "We certainly understand that earning your business is a privilege."
About Adorable Gift Baskets:
Adorable Gift Baskets, owned by entrepreneur B.L. Barbour, creates a wide array of gifts and care packages for any situation or celebration imaginable. Its unique gift baskets include the traditional fruit baskets and food gift baskets to bath spa gift baskets and other non-perishable items.
###