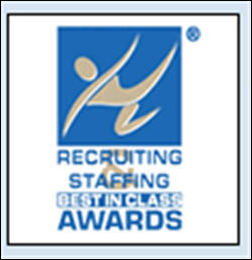 back into the recruiting process, once again giving candidates a voice.
Chicago, IL (PRWEB) December 14, 2006
PeopleScout, the country's leading recruitment process outsourcing (RPO) company, has won the coveted 2006 RASBIC Award for the "Most Informative Recruiting and Staffing Industry Resource."
The annual Recruiting & Staffing Best In Class Award (RASBIC), now in its third year of honoring companies with the most innovative practices in workforce management and planning, was presented to PeopleScout by HR IQ, a division of the International Quality & Productivity Center (IQPC). Judges for the award include a prestigious list of recruiting & staffing experts and leaders who evaluate the effectiveness of world-class recruiting and staffing professionals and programs.
The RASBIC award follows PeopleScout's recognition by HRO Today magazine this year as one of the top providers of RPO Services, with the presentation of the magazine's "RPO Baker's Dozen" and "Buyer's Choice" designation.
PeopleScout was honored for its unique approach to helping companies attract and retain great people, adopt and scale recruitment practices, and increase their speed to market. Simply put, PeopleScout allows an organization to hire quality people faster.
The judges for the RASBIC award evaluated recruiting companies on innovative methodology and proven results, based on client testimonials and hard data. PeopleScout won this award because the benefits of their services are demonstrable and "best-in-class." Clients not only get sourcing support but also a myriad of other gains to help make HR more strategic, react more quickly, and help cut costs. Clients cite three PeopleScout services as most beneficial: the screening of high-volume candidates, which saves significant time; ensuring quality candidates come through the system, which increases hiring ratios; and the delivery of outstanding customer service by being responsive, professional, timely, thorough and proactive.
"We're honored to be recognized by a panel of peers for being a recruitment company that sets standards of excellence for all organizations," said Karen Browne, Chief Operating Officer for PeopleScout. "Recruiting is a business issue for our clients, not just an HR issue, and this award reflects our commitment to providing strategic solutions, innovative techniques and superior service."
With large-scale live recruitment response centers unique to the RPO world, PeopleScout has the extensive resources to provide a customized set of services and solutions that clients require. The company's "click or call" approach makes the most of candidate flow and reduces the risk of applicants dropping out early in the recruiting process. Regardless of an applicant's initial method of inquiry, each individual can speak to an experienced telephone recruiter prior to being scheduled for an interview, giving them the increasingly rare opportunity to ask questions and really learn about the job opportunity. Conversely, the telephone recruiters have the competitive advantage to screen for communication skills and motivational fit. "By utilizing a blend of customized web-based technologies and live recruiters," added Browne, "we bring the lost art of "human touch" back into the recruiting process, once again giving candidates a voice."
About PeopleScout
Since 1992, People Scout has screened more than 22 million job candidates, and facilitated more than 187,000 hires for some of America's largest employers, in industries such as banking, telecommunications, retail, utilities, hospitality, and transportation. PeopleScout uses live recruiters and web-based technologies to provide personal and professional recruitment process outsourcing (RPO), helping companies make high-volume hiring more efficient and cost-effective. The firm's family of services includes recruitment consulting, strategic sourcing, candidate selection, hiring, onboarding and employee retention. Expanded capabilities include not only RPO, but Candidate Process Outsourcing (CPO), Student Recruitment Outsourcing (SRO) and Employee Care Outsourcing (ECO). Whether it's an individual component in the recruitment process or a complete end-to-end RPO solution, PeopleScout has the experience, infrastructure, resources and best practices to ensure successful recruiting, refining, hiring and retention. For more information, please visit http://www.peoplescout.com or call 800-966-4803.
Media Contact
Nancy Harbutte
Director of Marketing, Staff Management
(312) 915-0900
nharbutte(at)staffmanagement.com
This press release was distributed through eMediawire by Human Resources Marketer (HR Marketer: http://www.HRmarketer.com) on behalf of the company listed above.
###