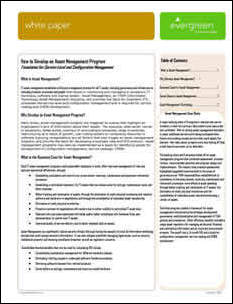 Sterling, VA (PRWEB) December 15, 2006
Evergreen Systems today announced that Partner Tony Iannetta was interviewed in Bank Systems and Technology's December issue on asset management in banking. In the interview, Tony discusses everything from best practices for tracking, monitoring and managing assets, to risks and rewards of asset management, to striking the 'right balance' of tools, systems, policy, processes, people and training for efficient asset management. Go to the link below to view the full article:
IT Asset Management: From the Data Center to the Desktop
The company has also released a new white paper on how to develop an asset management system. The paper explores the definition of asset management and the business case for developing an asset management system and presents an asset management banking case study. The white paper also lays out seven steps to the development of an asset management program, including:
Establishing asset management corporate goals and objectives
Defining associated policies and procedures
Identifying, defining and categorizing assets
Benchmarking and designing new processes
Analyzing current methodologies and personnel
Analyzing supporting technologies
Implementing solutions
The paper also synopsizes best-of-breed technologies and highlights its new offering, which combines analysis, consulting, implementation and software from the HP OpenView AssetCenter™ suite, for a fixed price of under $65,000.
Download the white paper at the link below:
How to Develop an Asset Management Program
About Evergreen Systems
Evergreen Systems is a highly specialized technology consulting firm focused on helping firms maximize the value of IT to their businesses. Evergreen specializes in ITIL (Information Technology Infrastructure Library) business case development and consulting and offers services that include Service Catalog development, Change Management consulting, Configuration Management Database (CMDB) development and Asset Management. From strategic planning, to policy development, through execution, Evergreen makes sure that what gets planned, gets done.
Leaders in insurance, finance, healthcare and retail rely on Evergreen to address today's major business challenges, including making ITIL and COBIT operable; understanding and organizing IT assets for better planning and execution; developing automated, streamlined compliance processes; and maximizing benefit through change, configuration and asset management. Global 2000 organizations work with Evergreen for sound strategy, flawless execution and measurable results.
Contact:
Amy Mergler
Evergreen Systems, Inc.
571-262-0977
###