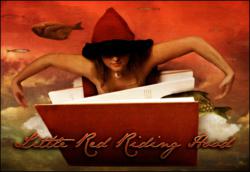 I was amazed at what one could find in a simple bedtime story
Ljubljana, Slovenia (PRWEB) December 15, 2006
Little Red Riding hood, far from being an innocent tale of a little girl's lucky escape from the belly of the beast, with herself and her beloved grandmother intact, is the story of a budding sexually adventurous young woman, who wants to learn, and to grow into her womanhood, but finds the danger in doing so.
Domen Lombergar's paintings will explore the themes of sexuality and maturity that are intertwined into this short story. According to his surreal paintings and the works of art of many others, we can go behind the scenes of the story and look at this novel from a whole new perspective.
Many psychoanalysts argue that the story is actually meant to explore the sexual development of a young girl as she travels through the woods a virgin, maturing into a woman and then in a way, having intercourse with the wolf. A closer look at the story shows that this seemingly innocent children's book, is actually about the loss of virginity.
"I was amazed at what one could find in a simple bedtime story," said Lombergar, the author of the exhibition. "It's packing symbols and morals that are differently interpreted by every generation. Red Riding Hood rises from the pages of the book, like a flower unfurling, not yet sure of what awaits her. She has a heavy, fur-lined hood, covering her eyes so she cannot see what the future holds. She is awakening in the land of dreams, looking to become a full woman."
"The new Freudian interpretations have sparked my imagination so remarkably that I felt the urge to put it on canvas," adds Lombergar, who has been exploring the relationship between the unconscious and art for several years now.
Lombergar's works can most easily be described as a combination of expressive surreal art, grotesque, combined with the sensuality of the female form. His careful crafting of the details in his images invites it's viewers to further involve themselves in the work.
His works of art portraying the story in which he sees it will be on display at the Kljub Vsemu Gallery in Ljubljana, Slovenia until the end of December. Lombergar is still actively seeking gallery representation for the US and European art world.
###