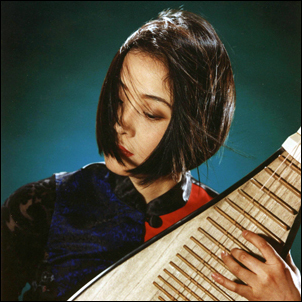 Wu Man played … with staggering mastery, drawing from her instrument a veritable symphony of sounds, hollow, percussive thwacks, glittery pinpricks of tone, slithery, kaleidoscopic washes of light, and the sigh of skin against string
Baltimore, MD (Vocus) December 14, 2006
Wu Man, who is recognized for bringing the pipa to the Western world, will perform on the Chinese stringed instrument as part of Goucher College's 47th Annual Henry and Ruth Blaustein Rosenberg Lecture-Performance. The concert will be held in Kraushaar Auditorium at 7 p.m. on February 25.
Although the performance is free and open to the public, seats must be reserved in advance. Tickets can be obtained at the college box office, by calling 410-337-6333, or by sending a self-addressed, stamped envelope to the Goucher College Box Office, 1021 Dulaney Valley Road, Baltimore, MD 21204.
Born in Hangzhou, China, Wu studied at the Central Conservatory of Music in Beijing, where she became the first-ever recipient of a master's degree in pipa. The plucked instrument has been played for nearly 2,000 years and frequently was referred to in Tang Dynasty poetry for its refinement and delicacy of tone.
The famed cellist Yo-Yo Ma selected Wu as the winner of the City of Toronto Glenn Gould Protégé Prize in music and communication. Ma and Wu were among the first Chinese artists to perform at the White House.
Over the years, Wu has performed with the New York Philharmonic, the Boston Symphony Orchestra, the Stuttgart Chamber Orchestra, and she has played at Carnegie Hall and Lincoln Center in New York. She has recorded extensively, and her music appears on several movie soundtracks, including "Eat Drink Man Woman" and "The Wedding Banquet."
At Goucher, Wu will perform "Ancient Dances," a collaborative multimedia work she created with composer Chen Yi and videographer Catherine Owens that combines projections of Chinese calligraphy with pipa music. She premiered the work in 2005 at Philadelphia's Kimmel Center, followed by a New York premiere at Carnegie's Zankel Hall and several critically acclaimed performances throughout the United States.
"Wu Man played … with staggering mastery, drawing from her instrument a veritable symphony of sounds, hollow, percussive thwacks, glittery pinpricks of tone, slithery, kaleidoscopic washes of light, and the sigh of skin against string," raved New York's Newsday.
For more than four decades, the annual Henry and Ruth Blaustein Rosenberg Lecture-Performance has featured notable musicians, including Marilyn Horne, Isaac Stern, Yo-Yo Ma, Aaron Copland, Ravi Shankar, and Cyrus Chestnut. Established in 1959 with a gift from the Louis and Henrietta Blaustein Foundation, the Rosenberg Lecture-Performance honors the late Henry and Ruth Blaustein Rosenberg, the latter a 1921 Goucher alumna.
Goucher College is an independent, coeducational institution dedicated to the interdisciplinary traditions of the liberal arts and a broad international perspective on education. The first college in the nation to pair required study abroad with a special travel stipend for every undergraduate, Goucher believes in complementing its strong majors and rigorous curriculum with abundant opportunities for hands-on experience in the world. Through internships, community service, and study abroad--and a first-rate arts and sciences academic program--Goucher teaches its students to engage the world as true global citizens. For more information, please visit http://www.goucher.edu
Contact:
Jess Bowers
410-337-6015
# # #