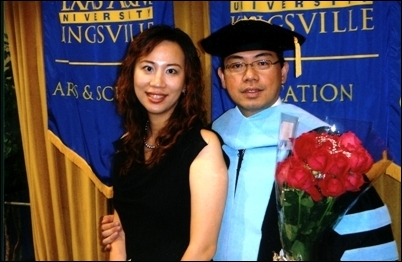 A&M-Kingsville is a great place to study and as it turns out, meet a husband
Kingsville, TX (Vocus) December 14, 2006
Ching-Ying Lin will receive her doctorate in bilingual education from Texas A&M University-Kingsville Friday, but when she returns to her home in Taiwan, she will take something more than a degree -- she will also take a fiancé.
Lin met her fiancé at the university where both were doctoral candidates in the bilingual education program. Her fiancé Cheng-Che Lin -- no relation -- received his doctorate in May and has since gone back to Taiwan.
Fate had a big hand in bringing Ching-Ying and Cheng-Che together. The two of them attended the same junior high school and high school in Taipai, Taiwan, but because they were large schools, the two never met. Lin actually knew a friend of her future groom as they have discovered since meeting in Kingsville.
Lin actually started out in an educational administration program in Kentucky, before realizing that isn't what she wanted to do. That's when fate stepped in. Ching-Ying had heard of A&M-Kingsville's reputation in bilingual education while still in Taiwan so she decided to change her program of study and ended up in South Texas and in classes with her soon-to-be fiancé.
"A&M-Kingsville is a great place to study and as it turns out, meet a husband," Lin said. "I am honored to have been accepted into this program and honored to graduate. The professors and everyone in the department have been very helpful."
Ching-Ying's parents, Cho-Hsiung Lin and Pi-Hui Chang, made the trip from Taiwan to see their only child receive her doctoral hood and spend some time traveling around Texas, getting in some shopping for the upcoming wedding. Her mother was the dean of an elementary school while her father was an engineer for a chemical company. Both are retired.
"My parents are proud of me," Ching-Ying said. "As an only child, they expected a lot from me and they wanted me to finish my education first before getting married.
"This is my time to pay back my parents for all they have done for me and what a better gift for them than for me to complete my education and A&M-Kingsville was the best choice.
"They sacrificed themselves for me. I'm lucky."
Lin's mother said through her daughter that she appreciates everyone at A&M-Kingsville. "It was the best environment for her to grow up in," she said.
When Lin goes back to Taiwan, she will go back to Tajen University where she taught for 14 years before continuing her education in the United States. She left a lecturer, however, and returns as an assistant professor. Her fiancé is also an assistant professor in the general education department at Kaohsiung Medical University.
Lin's doctoral dissertation, supervised by Dr. Emma Garza, assistant professor, was entitled The Impact of Literary Enhancement Through Storybook Reading Intervention for Taiwanese EFL Junior High School Students. Garza will assist in the hooding ceremony during the 7 p.m. commencement on Friday, Dec. 15.
Lin, like the other Taiwanese students in the bilingual education doctoral program, completed her class work in Kingsville, returned to Taiwan to conduct her research and then came back to complete the program, Garza said.
Once Lin returns to Taiwan, she will have to present her research and provide evidence of its effectiveness, she added.
Garza said that several years ago, the average student in the bilingual doctoral program shifted from local students to Taiwanese students, which now hold the majority in the department.
The Taiwanese educational system and the way English is being taught is changing, Garza said, requiring the need for teachers who are versed in bilingual education. Many of the graduates of the doctoral program return to Taiwan and teach teachers how to teach English.
"In Taiwan, they previously taught English by rote memory and grammar only. They only spoke English in the classroom. Many people could understand it and even write it, but couldn't hold a conversation in English," Garza said. Now things are changing and they are encouraging students to speak to each other in English outside of the classroom, so they need a different way of teaching.
Garza said Lin's research will help students in her country feel more comfortable with English and be able to practice it outside the classroom.
"Lin has worked very hard in doing research that will be a benefit to her country," she said.
After spending some time in the United States, Lin and her parents will return to Taiwan Dec. 24. But then the fun begins, planning for the traditional three wedding events. First there is an engagement party March 18. This will be followed by a wedding party for the groom's side of the family April 14 and another for the brides' side April 15.
Ching-Ying Lin came to A&M-Kingsville to continue her education and improve herself, but she is leaving with not only a promising future with her fiancé, but with the opportunity to be instrumental in changes being made in her country's educational system.
CONTACT:
Julie Navejar
361-593-2590
# # #