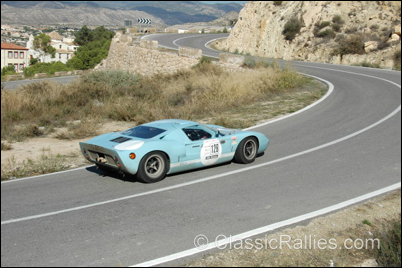 Barcelona, Spain (PRWEB) December 15, 2006
The world's first truly global website devoted to historic motorsports has been launched. 'ClassicRallies.com' offers a unique insight into the world of historic motorsports, from classic rallying through hillclimbing to historic racing.
ClassicRallies.com will bring the global historic motorsport industry together, affording competitors, suppliers, merchants and enthusiasts a truly global website for looking for information about forthcoming events, buying and selling classic cars, sharing pictures and videos, buying automobilia, and much more.
ClassicRallies.com, the new historic motorsport website, is revolutionising the promoting of everything to do with historic motorsport in the world. New features include a forum and a free online magazine, easy to suscribe. And more to come soon…
More than 350 forthcoming historic motor sport dates scheduled for 2007 and 2008 have been added in our calendar.
Our main readership will comprise historic motorsports enthusiasts, media executives, existing and potential sponsors, team owners, classic cars clubs owners and members, event organisers. Readers are well targeted, measured, and verifiable. Our readership takes in the UK and Europe; the Middle East including Dubai, Bahrain, Turkey and Qatar; the USA and Canada; South Africa and South America; Australia and New Zealand; Japan and South-East Asia. Thousands of historic motorsports reach our pages every day.
We received great feedback from readers and historic motorsports professionals, and also featured great stars such as Vic Elford (see forewords), Brian Redman, Gerard Larousse, Henri Pescarolo, David Stone….
Teams, drivers and organisers may send their press and media bulletins directly via e-mail.
About ClassicRallies.com
Launched in september 2006, ClassicRallies.com has grown rapidly on its way to become THE place for historic motorsports enthusiasts. It differentiates in its marketplace by its design, a stunning search engine, and the fact that it is being extensively promoted and marketed.
ClassicRallies.com is now looking for sponsors-partners. Download our sponsoring document here: http://www.classicrallies.com/Sponsoring.pdf
###