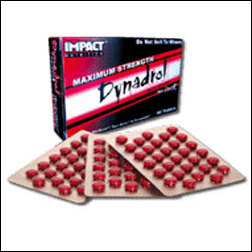 Aurora, CO (PRWEB) December 28, 2006
Zupplements.com only recommends products with proven track records for their customers. And atop their list of effective muscle builders, you will find Dynadrol from IMPACT Nutrition.
Dynadrol is growing in popularity among bodybuilders. It's touted as a potent muscle builder that works by stimulating the natural production of testosterone. Many scientists agree that the best way to produce testosterone is to first increase the natural levels of a hormone called leutenizing hormone (LH). LH is released by one of the endocrine glands called the hypothalamus, the master hormone releasing gland in the body. Once LH is released into the blood stream, it travels all the way down to your testicles and then signals what are called leydig cells which, in turn, produce testosterone. This is how Dynadrol works.
Why use Dynadrol?
The manufacturer of Dynadrol makes some very strong claims about the effectiveness of their product. But can Dynadrol really help bodybuilders build muscle?
Like any other muscle builder on the market, you should first look at the clinical evidence behind the products' main ingredients. In our research we found multiple studies covering the anabolic effects of Dynadrol's main components. One in vitro study, where the testosterone content was measured within the human testicle, supports the enormous claim of a "440% increase in testosterone levels".
Further research uncovers another clinical study that displayed a 180% increase in free, unbound testosterone; different than bound testosterone which the human body cannot freely use for muscle production. This study also showed no noticeable increase of dihydrotestosterone (DHT). This is significant because DHT plays a major factor in hair loss and other androgenic side effects. But probably the most compelling result in the second study is that 76% of the individuals tested showed a clear increase in free testosterone levels. Clear evidence supporting Dynadrols' ability to raise testosterone levels.
Dynadrol appears to work on paper… but does it work in the real world?
"No doubt it does!" Says Anthony Robbinson, consultant to Zupplements.com product team. "Dynadrol is one of the few bodybuilding supplements that actually has scientific evidence to back its claims. But that doesn't really mean anything to most people." Even Anthony, a strong Dynadrol proponent, admits that scientific studies can be misleading. "In reality, all athletes care about is that it works on them; most of them could care less about the science."
Benefits of Testosterone:
Testosterone is a powerful male sex hormone. For bodybuilders, more testosterone could mean faster muscle growth, shorter recovery period, more energy, more stamina, and a higher sex drive. And the benefits of testosterone go well beyond the realm of body building. Use of prescription testosterone is becoming more and more common among aging men in general.
"It takes more than high testosterone levels to build muscle" explains Anthony. "Dynadrol can raise your testosterone, but if you don't utilize it you won't build muscle. You have to workout hard and eat right or you will be wasting your money… it's as simple as that"
Who Is IMPACT Nutrition?
IMPACT Nutrition is best known for discovering the revolutionary pro-hormone formulas that have since been reclassified as anabolic steroids; schedule III illegal substances. Since the reclassification, all of their products have been reformulated with non-steroidal ingredients. Dynadrol is still the original. It is not found in retail stores, but can be purchased online at Zupplements.com.
Dynadrol Cautions:
As with all products of this nature, Dynadrol is not officially endorsed by the US Food and Drug Administration (FDA). In fact websites who market Dynadrol make it clear to researchers that statements contained on their website have not been evaluated by the FDA. They further state that Dynadrol must be used in conjunction with a nutrition and exercise program and should not be used by minors or pregnant women. Dynadrol is also not intended to cure or prevent any disease and should not be sold to minors.
For more information on Dynadrol or other testosterone muscle builders, visit Zupplements.com or call toll free at 1-888-987-7748.
###